Braves Top Rockets To Win Tourney; Eskymos 1-2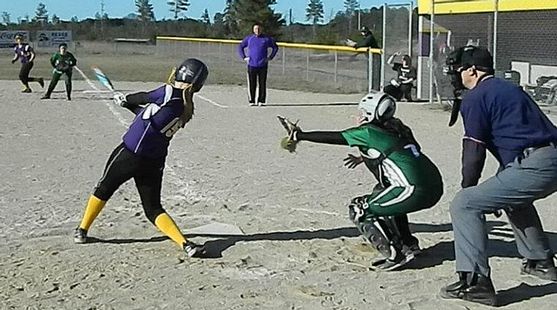 The Gladstone Braves won the championship of the Boyne City Softball Invitational on Saturday, and they beat a familiar foe to earn their second trophy of the season.

The Braves turned back the Rapid River Rockets, 9-3, in the championship game of the eight-team event. Earlier, the Braves beat Cheboygan, 12-4 and beat the host Boyne City team, 6-2. Gladstone improved to 9-2-1 on the season, after also winning the Pinconning Invitational earlier this spring. Gladstone faces Rapid River again on May 8th.

Before playing Gladstone, Rapid River whipped Gaylord, 17-0, and edged Rochester Adams, 3-2, to make the final. The Rockets are now 11-1 on the season.

Meanwhile, in Wisconsin, the Escanaba Eskymos went 1-2 in the Ashwaubenon Invitational. Escanaba topped the host Jaguars, 4-1, in the opener. But the girls dropped the next two games, losing to Chippewa Falls, 9-3, and Kimberly, 7-1. Escanaba's record is now 6-4 this season.

Pictured: Rapid River's Kendyl Miller during an earlier game. (Cara Brockway photo)