Tired Eskymos, Braves Finish Busy Softball Stretch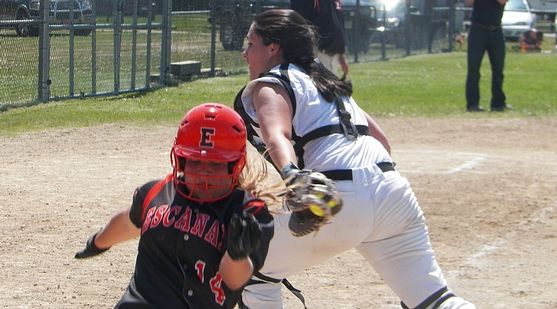 ESCANABA----It's been a long week for the Escanaba High School softball team, but it's been a successful one. The girls wrapped up a ten-games-in-a-week stretch by hosting the Escanaba Lions Softball Challenge on Saturday, and the girls won three of four games to finish in second place.

Petoskey went 3-0 and was the only undefeated team in the tournament.


Zoe Berquist against Traverse City.

"The kids really played well," Escanaba Head Coach John LaMarch said. "Like I told them after the game, they don't get enough credit for being student-athletes. We played ten games, went 7-3 on the week, they had school, I had work. We're all tired."

Escanaba started the day with a 10 a.m. game against Petoskey. Codi Jenshak started on the mound, and gave way to freshman Jaymie Frappier in the fifth inning.

The two girls kept the Northmen in check, but the Eskymos couldn't generate enough offense, failing to take advantage of a Petoskey pitcher who hit four batters. Petoskey won, 5-2.

"We had some hits, but we just couldn't string anything together," LaMarch said. "Boy, two runs. Not enough."

The Eskymos then played Traverse City Central twice, because Sanford-Meridan dropped out of the tournament, making it a seven-team event. Escanaba won both games from the Trojans, 10-1 and 9-2. The Eskymos finished the day by whipping Sault Ste. Marie, 17-1, in a game that featured a nine-run sixth inning for the Eskymos.


Sydney Gafner bats against TC Central.

Four girls pitched for the Eskymos on this day: Jenshak, Frappier, Kayli Van Effen, and Makayla Schuster.

It was encouraging week for Escanaba, which faced all three of its potential district tournament opponents. The girls will open districts on June 2nd against Petoskey.

"We beat all three of them," LaMarch said. "It makes me feel good. I hope it makes the kids feel the same way. We did lose lose to Petoskey, but we beat them last week. I don't think our girls are afraid of anybody.

"But, who shows up that Saturday?"

Escanaba (19-11) hosts Gladstone in a doubleheader on Tuesday. Game time is 4:00. The twinbill will be broadcast live on WCHT-AM (600), and rrnsports.com.


GLADSTONE WINS TWO OF THREE IN TAWAS---The Gladstone Braves were also busy on Saturday, finishing a grueling week of their own with a tournament in downstate Tawas. The Braves had swept doubleheaders from Rapid River on Wednesday, took two from Escanaba on Thursday, and swept two more on Friday in the Sault. And Saturday got off to a good start for Gladstone as well.


Gladstone's Tinner Sharon pitched again

The Braves continued with their pitching tandem of Christine Sharon and Alison Austin, and it worked again as the Braves won two more games.

Gladstone edged Birch Run, 4-3, and then topped Standish-Sterling, 10-0. That put the girls in the semifinals against the host Tawas team, and Gladstone lost a tough 4-3 decision.

"I'm impressed with every one of my girls," Gladstone Head Coach Jerry Smith said. "It was our tenth game in four days, and it was very hot down here. They all played well. We went 9-1 in four days. That's a good record. I can't ask for anything more."


Gladstone (22-5-1) travels to Escanaba for two games on Tuesday.