Menominee County Civil War: Carney-Nadeau Wins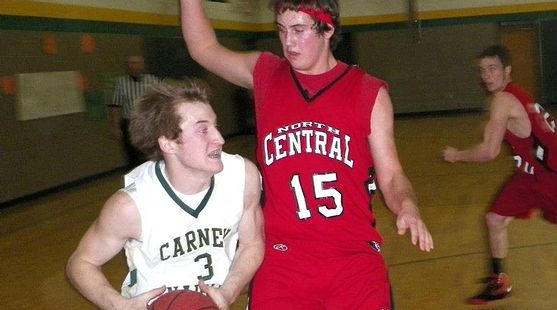 CLICK HERE FOR ALL U.P. BOYS BASKETBALL SCORES.

CARNEY---It was an all-out war on the Carney-Nadeau High School basketball court Thursday night as the Wolves hosted their arch-rivals, the North Central Jets.

And this time, there was no Coke bottle on the floor as the final seconds wound down.


Dionte Blahnik had a strong defensive game for the Carney-Nadeau Wolves.

The Wolves fought off a spirited challenge from the Jets and posted a 59-53 win before a standing-room only crowd in Carney. Wade Schetter scored 30 points, 22 of them in the second half, to help Carney-Nadeau win its 21st straight home game.

The last time these two teams met, it was in the district tournament last spring, when the Jets had the lead in the closing seconds but lost on a Schetter three-pointer.

That happened only after a pop bottle was thrown onto the court by a Jets fan, giving North Central a technical foul that helped the Wolves get that winning buzzer-beater.

But this time, there was nothing like that.

The two teams simply battled for 32 minutes, and the fans from both schools were passionate, but well-behaved.



The game was within a few points all night long until the Wolves pulled away in the final minutes. The proof that this was a war? Both Josh and Rob Granquist fouled out for the Jets. And Dionte Blahnik fouled out for the Wolves.

Intense. Passionate. Standing Room Only Crowd. This was a Civil War.


NCA's Tyler Polfus drives on Carney's Keenan Lampinen Thursday night.

The Jets had a small lead for much of the night. They led, 14-12, after one quarter of play. They led, 25-24, at halftime. And the game was tied at 28-28 in the third quarter.

That's when Schetter, who struggled with his shot in the first half, made his move. He nailed a three-pointer, got a steal, and scored on the drive.

Those five points in eight seconds gave Schetter and the Wolves a 33-28 advantage with 3:21 left in the third.

North Central, sparked by the play of freshman Caleb Martin, outscored the Wolves in the rest of the quarter, 10-3, and took a 38-36 lead entering the final eight minutes.

But down the stretch, Schetter got tough. He made his way to the basket aggressively, and got to the free throw line. And he was "money in the bank" at the line from there.

For Carney (4-0), besides Schetter's 30 points, Keenan Lampinen added 13 and Blahnik scored nine. NCA (3-1) had 18 points from Travis Vincent. Martin added 11, while Rob Granquist scored nine points and Josh Granquist tallied eight points.

Click the thumbnails in the "ARTICLE HIGHLGHTS" box to see photos and videos from Thursday night's game.