Jets Turn Up Defensive Pressure To Beat Mid Pen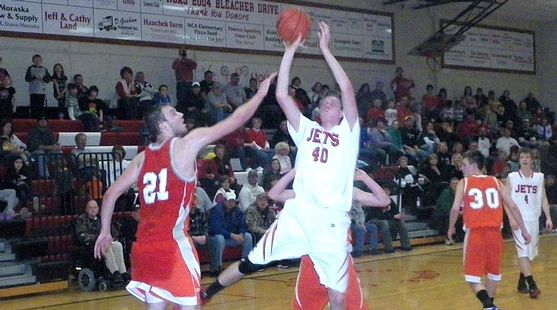 POWERS----They've been waiting to play each other all season long.

And now, the North Central Jets and Mid Peninsula Wolverines will be seeing a lot of each other. Thanks to the schedule-maker and Old Man Winter, the two boys basketball teams will square off against each other three times over a nine-day period of time.


Jets junior Travis Vincent goes up for the shot Saturday night against Mid Pen.

The first meeting was Saturday night in Powers, and the game went back-and-forth before the Jets pulled out a 57-47 victory over the Wolverines.

The win improved North Central's record to 15-3, following the recent loss at Munising.

The game was tight for most of the evening, and then the Wolverines made their move in the third quarter. Mid Pen took a 34-28 lead as Brett Branstrom scored twice but also got his teammtes involved in the offense.

But the Jets got their wake-up call.

North Central's defense clamped down, and the offense started to hit on all cylinders. The Jets went on a 17-2 run over the next four minutes, with Rob Granquist nailing two three-pointers during the spurt. All of sudden, NCA's deficit turned into a 45-36 lead.



It was a physical game at times, and Branstrom was the target. He ended up with 21 points and 14 rebounds, and Brandon Stone scored ten points. NCA got 18 points each from Travis Vincent and Rob Granquist. Tyler Polfus chipped in with eleven points.

Both teams had a surprising amount of energy, considering both had played the night before. North Central faced Bark River-Harris, while Mid Pen took on Republic.

With the loss, Mid Peninsula fell to 12-6 on the season.




Click the thumbnails in the "ARTICLE HIGHLIGHTS" box to see more photos and videos from Saturday night's game.