Regional Champions! NCA Jets Party Like It's 1985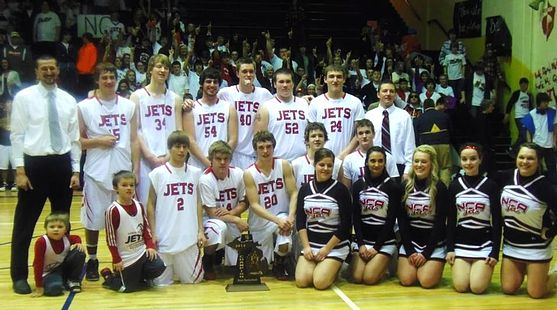 NEAGUNEE----The last time the North Central High School won a boys basketball regional championship, Ronald Reagan was the president of the United States.

But Wednesday night in Negaunee, the Jets turned back the clock by posting a 59-50 win over the Forest Park Trojans to earn a trip to the Class D Elite Eight quarterfinal round.

The Jets won a state championship in 1984, and then a regional title in 1985. Since then, they've been off the statewide basketball map. But not this year.

The Jets won three tough games in the district tournament (Mid Peninsula, Carney-Nadeau and North Dickinson), and then had to fight off a valiant Superior Central team in the regional semifinals. And now, a Forest Park team that the Jets had beaten twice in the regular season by 11 and 20 points...but this one would not be as easy.

Forest Park's Derek Aberly scored 20 points in the first half Wednesday night, and entering the fourth quarter, the Jets were behind. But a big fourth quarter put the Jets in front, and Josh Granquist's three with 1:06 left iced the game at 57-50.

Travis Vincent scored 19 points to lead the Jets. Trevor Ekberg scored 14 points and Rob Granquist added ten. Aberly was shut down in the second half, finishing with 22 points.

North Central (22-3) advances to the state quarterfinal next Tuesday night in Marquette against the Cedarville Trojans. Cedarville (23-1) needed two overtimes to beat the Hillman Tigers, 92-85, in Tuesday's other regional final.

Josh Hester had 23 points, Keith Bouschoor 21, and Dan Stanbeck had 19 off the bench for Cedarville. Next Tuesday's game starts at 7 ET/6 CT at Marquette High School.