NCA Jets Pull Away In Second Half To Beat Eagles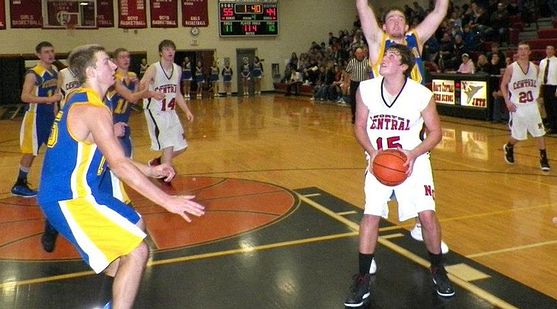 Click HERE to see the U.P. Boys Basketball Scores/Schedule

POWERS----The North Central Jets had a big third quarter Monday night, and it was enough to propel them to a 61-48 win over the Stephenson Eagles in the boys basketball season-opener for both teams at the North Central High School Gym.


NCA's Tyler Polfus (4) gets a lay-up during Monday night's game.

North Central led, 24-20, at halftime in this rivalry game. The Eagles clawed to within one point on two different occassions early in the third quarter (24-23, 26-25). But the Jets had the answer, and eventually rebuilt the lead to seven points after three quarters.

North Central kept its rivals at arms-length throughout the fourth quarter, never allowing the Eagles to chew into the lead.

Sophomore Rob Granquist led the Jets with 16 points, while junior Travis Vincent added 15 points. Freshman Caleb Martin had eleven points.

Stephenson was led by Austin Grinsteiner's game-high 19 points.

Click the thumbnails in the ARTICLE HIGHLIGHTS box to see videos and pictures taken during Monday night's game.