WINNER WINNER, ORIOLE DINNER! Esky Wins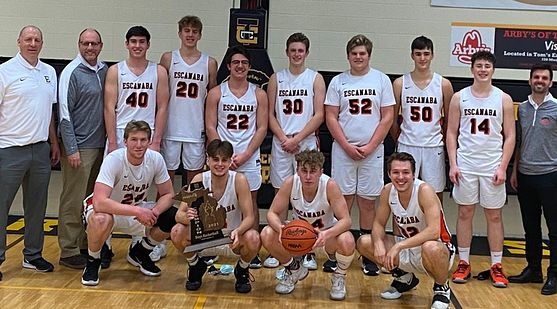 Click the thumbanils to see/hear post-game comments from Connor Smale and Brandon Frazer (Escanaba Athletics photo)

TRAVERSE CITY---The Escanaba High School boys basketball team won its first regional championship in more than a half century Thursday night by grinding out a 41-38 win over the Ludington Orioles in the regional championship game in Traverse City.

The game was tight all the way, but the Eskymo defense was strong throughout, mixing Coach Tracy Hudson's 1-3-1 defense with a 2-1-2 press in the third quarter.

Escanaba led, 13-8, after the first quarter, before the Orioles tied the game at 21-21 at the half. Connor Smale gave the Eskymos a big boost off the bench by knocking down three triples.

"I'm really happy that we got out of there with a W," Smale said. "We just had to stay focused and do what we've been coached since like second grade. I think that I worked a lot in the off-season (on his shot) and eventually, it was going to pay off. Tonight was the night. I feel like I could've made a couple more, but it's really good."

The Orioles then went on a 7-0 run in the third quarter before Hudson switched to the press defense. Escanaba rebounded to take a 35-32 lead after three quarters, with Colin Hudson getting a dunk and Carter Hudson getting a strong post-up basket from the paint.

The Eskymos had to hang on when a potential game-tying tghree-point shot was missed at the buzzer. That's also how the regional semifinal win over Boyne City ended on Tuesday.

Senior Brandon Frazer had ten points, including a pair of triples, and Smale added nine.

"A lot of it was just to think about what happened two years ago, in Gaylord, when we played Ludington and lost by like eleven," Frazer said. "We had a chip on our shoulders coming into this game. We had to make sure that we played defense. That's the reason why it was such a low-scoring game. And we had to knock down shots."

Ludington freshman David Shillinger scored 19 points, including three baskets in the third quarter run. The Orioles finished their season with a 13-6 recrd.

It was Escanaba's first regional championship since 1960, and it came less than 24 hours after the Escanaba girls won their first regional championship ever, also against Ludington.

Escanaba (17-2) advance to the state quarterfinals against either Bridgeport next Tuesday night. That game is scheduled for Corunna High School.