STILL UNBEATEN: Eskymos Hold Off Menominee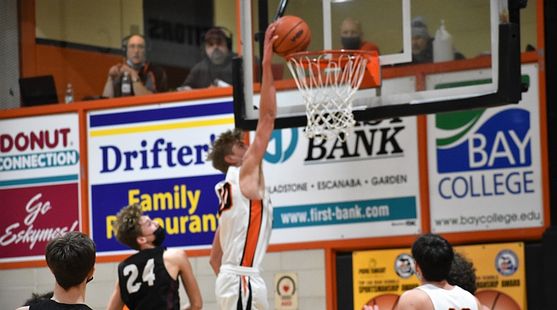 Click the thumbnails to see photos and videos, and to hear post-game comments from Brandon Frazer, Coach Tracy Hudson, and Menominee Coach Sam Larson.

ESCANABA---The Escanaba High School boys basketball team built a 19-point lead in the fourth quarter and held off a furious Menominee rally to beat the Maroons, 87-79, Thursday night.

The win came on the heels of a tough Great Northern Conference win in Marquette Tuesday night, and comes ahead of this Friday night's showdown with the arch-rival Gladstone Braves.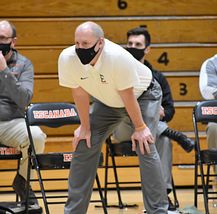 "We had to hang on, but we're 7-0, 3-0 in the conference, and I think everybody else in the conference has two losses," Escanaba Coach Tracy Hudson said. "I thought Menominee played a great game, and if they played a great game and we still won, that means we did something right. I'm proud of my kids. We learned a lot. I think we can grow from this. We've dealt with guys in quarantine. We've dealt with injuries. But we're 7-0 and we have a lot to be proud of."

The Eskymos hit six triples in the first quarter and led, 30-19.

Colin Hudson drained two of the triples, Brandon Frazer had two of his own, and Connor Smale knocked down two (from opposite sides of the court).

The two teams played an even second quarter, with Escanaba leading at the half, 49-36.

The Eskymos grabbed a 71-52 lead in the third quarter as Jared Hanson came off the bench to knock down a couple of triples and Trevor Brown also came in for two tough baskets inside.

But the Maroons didn't give up. Behind juniors Aidan Bellisle, Brady Schultz, and Cooper Conway, the Maroons took the Eskymos to the rim several times. A Schultz "and one" basket cut the Eskymo lead to 79-74, and after a couple of free throws at the other end, Bellisle went to the rack to bring his team to within 81-77 with 1:31 left in the game.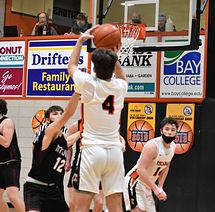 The 25-10 spurt had the Maroons in striking distance, but Frazer slammed the door with a big basket, and a couple of free throws in the closing seconds, to preserve the win.

"We were moving the ball well and had very few turnovers, and we shot the ball well in the first half," Frazer said. "The second half got kind of messy. As the game went on we all started to get tired."

"I think we showed, in the win, the strength of our team," Coach Hudson said. "We had everything but the klitchen sink thrown at us and we still came out on top."

"When Esky went into their sets, and they're pretty solid at running those, and they execute them very well, we wanted to take them out of some of that in the second half," Maroons Coach Sam Larson said. "In the first half, we didn't take anything away from them. The ball was going wherever they wanted it to go. We wanted to speed things up and make them rush more in the second half."

Colin Hudson scored a team-high 24 points, including 18 in the first half. Frazer added 16 points as he took the spot in the lineup that opened when starting point guard Erik Victorson left with an ankle injury just one minute into the game. Smale had 13 points.

Bellisle rolled in 27 points for Menominee (3-3, 2-2 GNC). Schultz added 21 points and Conway chipped in 19 points.

Escanaba (7-0, 3-0 GNC) hosts Gladstone Friday night at 7:00.

Escanaba won Thursday's junior varsity game, 77-68 as Casey Bray scored 26 points and Matt Dykema added 17. Menominee got 26 points from freshman Connor Coduti and 15 points from Eli Beal.