SURVIVE & ADVANCE: Eskymos Hold Off Boyne

Click the thumbnails to see photos and video highlights, and listen to post-game comments from Jared Hanson and Erik Victorson.

ESCANABA---The Escanaba High School boys basketball team advanced to the MHSAA Division Two regional championship game Tuesday night after holding on to post a 59-56 win over a determined Boyne City Rambler team.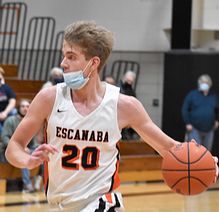 The Eskymos had to survive after the Ramblers rallied from eleven points down in the second half and clanked a potential game-tying three-point basket at the buzzer. The win gave the Eskymos a berth in the regional championship game Thusrday night against Ludington.

"We're feelimg really good," Eskymo junior Jared Hanson said. "Glad we got out of that one. We made some mistakes that we don't usually make. But we made some good plays at the end, too. As long as we survive and advance, that's all we're looking to do."

"That was a heart attack the last minute of the game, but we inched it out," Eskymo senior Erik Victorson said. "I mean, a win's a win. We'll take it. We've got a big one in Traverse City (regional final Thursday) and I'm excited."

It was a defensive battle early, as Escanaba led, 11-3, after the first quarter, when Hanson nailed a triple and then beat the buzzer with a jumper. Escanaba led throughout the second quarter, but the Ramblers' Gavin Hewitt launched a half-court shot that beat the second quarter buzzer, tying the game at 23-23 at halftime.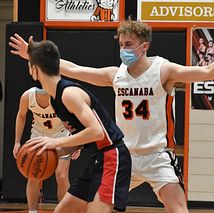 The Eskymos again took control in the third quarter, with Victorson knocking down a triple, Colin Hudson and Carter Hudson both scoring inside, to take a 42-33 lead entering the fourth quarter. Escanaba scored the first basket of the fourth quarter to go ahead, 44-33, but the Ramblers did not give up.

Senior Aidan Brehm knocked down a triple, and had a pair of and-one baskets. He also dished to Jacob Johnson for a baseline shot and all of a sudden, it was 57-54.

Escanaba got a huge basket from Carter Hudson off a sweet touch-pass from Bryant Maki to make it 59-54, but with six seconds left, sophomore Jack Neer made an off-balance shot while Victorson was heavily gauarding him, cutting to a 59-56 game.

Then on the inbounds play, Brandon Frazer's pass was intercepted. Two passes later, the ball went to a wide-open Hewitt from the right corner. His triple hit the rim and Escanaba survived.

Escanaba (16-2) got a career high 18 points from Hanson.

"It's amazing," Hanson said. "We didn't even know if we would play this season. And so to be at this point right now, and to keep playing, that's all we want."

Carter Hudson added 14 and Colin Hudson chipped in 12 points.

For Victorson, who moved here from suburban Madison, Wis., this is sweet.

"I'm beyond thankful, satisified, every emotion," he said. "I haven't ever won a playoff game up until this year. And now we're going to the Sweet 16 (regional final, 16 teams left in Michigan), and it's just so exciting. Just giving ourselves that chance to possibly go to States."

Boyne City (11-8) got 15 points from Brehm. Neer added nine and Alex Calcaterra added eight.

The Eskymos will face Ludington in the regional championship game Thursday night at 6:00 in Traverse City.