LIVING UP TO THE HYPE: Mountaineers Top Esky

Click the thumbnails for photos and video highlights, hear comments from Foster Wonders and Dante Basanese, and Eskymo Coach Tracy Hudson.

IRON MOUNTAIN---The Iron Mountain High School boys basketball team pulled away down the stretch Tuesday night to beat the Escanaba Eskymos, 58-52, in a battle of the Upper Peninsula's top two teams in Iron Mountain.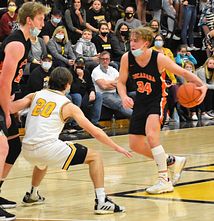 It was a battle all night as neither team had a lead bigger than six points, and featured a tenacious Escanaba defense that tried to limit the damage that could be inflicted by Mountaineer senior Foster Wonders.

That strategy worked for three quarters, as guards Erik Victorson and Brandon Frazer hounded the All-Stater up and down the court.

But Wonders scored eleven of his 27 points in the fourth quarter, and Dante Basanese stepped up with three huge triples to turn the tide for Iron Mountain

"I thought we did to Foster what we wanted to," Escanaba Coach Tracy Hudson said. "He worked extremely hard for his 27, and we wanted to keep him around 25 and I thought we did a good job of that. We played the game that we wanted to. We were in position to win a game on the road against a top team, and we just came up a little bit short."

"I feel good that we got a big win that moves us up to Number One (in the Upper Penunsula)" Basanese said. "I thought we played good as a team. We had good passing and everybody moved it around, made big shots, played good 'D', and played good as a team."

The atmosphere in the gym was electric, with large student sections for both schools and plenty of community members on hand as well, taking advantage of increased capacity limits allowed by Gov. Gtretchen Whitmer and the Michigan Department of Health and Human Services.


"It was great," Wonders said. "They upped the capacity in the crowd so the fan sections were back. It felt nomal again and that felt really good. Two great teams going at it and you can't ask for anything more. I wish we were playing games like this every night. I mean, this was special."

"It just brings back memories," Basanese said. "It just feels good to be back and having fun again."

Wonders entered the game with Wonders crossed the 2,000 point mark for his career with a triple earfly in the game.

"There's not really words to describe it," said Wonders, who will play at NCAA-I Southern Illinois next fall. "It's so special and it feels really good to hit it here in front of a big crowd."

Iron Mountain jumped to an 8-0 lead and led, 15-9, after the first quarter. But Escanaba's defense shut down the Mountaineers in the second quarter, outcsoring Iron Mountain, 14-6. in the second quarter to take a 23-21 lead at halftime. Victorson, a transfer student from the Madison, Wis. area scored eight points during that quarter.

From there, it went back and forth, with Basanezse connecting with a triple that brought the house down with less than five minutes to play, tying the game at 40. He then hit two more triples to put the Mountaineers up, 46-44, with 3:32 left in the game.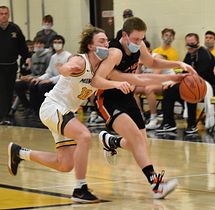 "It's a moment of letting it fly, seeing it go in, and hearing the crowd cheer," Basanese said. "It's just so surreal."

Then Wonders took over, with a pair ot triples and a driving layup. He scored eleven of his 27 points in the fourth quarter at crunch time.

"Dante Basanese came in and made some huge shots and got us going," Wonders said, deflecting praise off of himeslf. "He was the spark plug for us. We needed somebody to do that. He did it and it got everyone else going. That was huge."

Basanese scored 15 points for the Mountaineers.

"They had one of their role players get loose and we didn't do a good job on the free throw line," Coach Hudson said. "But I was proud of the effort of ny kids. I love Dante. I know him from AAU. He's a great kid and we took a chance on their role players. And one role player stepped up offensively."

Victorson scored 18 points to lead the Eskymos. Carter Hudson had 14 points and 10 boards. Frazer made three triples for nine points, along with his defensive effort.