NEW SEASON, NEW KID: Victorson Lands In Esky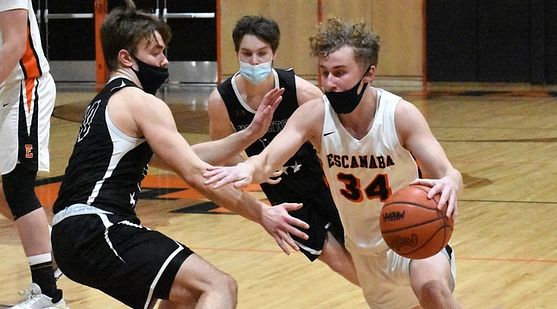 ESCANABA---When Erik Victorson saw his senior year of high school, and basketball, were in jeopardy due to strict COVID-19 restrictions imposed in his home of Dane County, Wis., he and his family made a decision.

Move to Michigan's Upper Peninsula, and try to live a somewhat normal life.

That decision brought the 6-foot senior guard to Escanaba, with the U.P. largely open along with most of Wisconsin, except for those areas around Milwaukee and Madison.


Then came November 15th, and the announcement from Gov. Gretchen Whitmer that Michigan high schools would go virtual, and basketball was on hold for three weeks. Then, just before Christmas, in-person school could start again, but not basketball.

Finally, last Thursday, Whitmer announced that high school contact sports could begin again.

And Tuesday night, Victorson was on the court in his adopted home of Escanaba, helping the Eskymos beat the Houghton Gremlins, 63-22, at a nearly empty Escanaba High School Gym.

"It was a lot of fun," Victorson said. "New team, new town. Getting to know the guys the last couple of weeks, playing with them. Coming up here, there's a lot of guys who can score, a lot of guys who can play. So, I'm expecting big things."

Victorson scored 13 points in Tuesday night's season opener, which saw the Eskymos jump out to a 12-0 lead and never look back. The game eventually went onto the mercy rule running clock in the fourth quarter as Escanaba's lead grew to more than 40 points.

For Victorson, the gamble of transferring from the Oregon (Wis.) High School Panthers to the Escanaba Eskymos had finally paid off.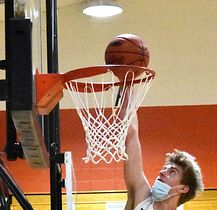 "We couldn't get in our gym, couldn't play, and we weren't in-person school either, it was all virtual," Victorson said. "So me and my family came up here, hoping for in-person school, and hoping to play a full season and obviously that hasn't worked out. But I'm excited, I'm still excited to be here. I love it. I love the small-town vibes. Everybody's close."

Escanaba Head Coach Tracy Hudson began his 24th season as the head of the Eskymo progran, and his 29th overall as a head coach. He attended the "Let Them Play" rally at the state capitol in Lansing just days before Whitmer allowed sports to resume. Hudson says he respects the efforts to battle the COVID-19 spread, but sports are also important.

"It felt wonderful to be on the court, and it was a bonus that we were able to get a win," Hudson said. "Everybody, I felt, played well, and we got all the kids in. At one point, I didn't think that we were going to be there. Just getting the kids out there and seeing the smiles on their faces, it was unvbelievable. I believe that we have to move forward during COVID. The NFL has proved it. I think it's important for the mental health of these kids and it makes them feel better and perform better academically in school."

Hudson's two sons, senior Carter and junior Collin, were twin towers inside that Houghton, having had big man Brad Simonsen graduate, could not counter. Carter Hudson scored nine points and Collin Hudson led all scorers with 14 points.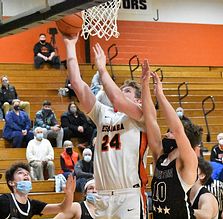 "We got ready (through the shutdowns) by getting our plays set, did a ton of shooting, and conditioning," Collin Hudson said. "There was just a different type of energy in the gym (as contact practices began Monday). Everybody was just excited to get back."

Connor Smale sank three triples for the Eskymos and was the third player in double figures with ten points.

Houghton was led by Kyle Primeau's nine points.

For Victorson, it was just great to talk basketball, instead of COVID.

"I think we played well," he said. "I think we moved the ball well. We obviously shot the ball well from deep. I thought on defense, too, we were really active, getting our hands on a lot of balls.  We rebounded well. We got out on the break.  I just felt like it was a good all-around game."

Still, it wasn't completely normal. There were only a few dozen spectators in the stands. Each player is allowed two spectators each, but Escanaba High School policy is that only family members can be among those two. And, of course, the guys had to wear masks, something that would have been unthinkable the last time these teams hit the court eleven months ago.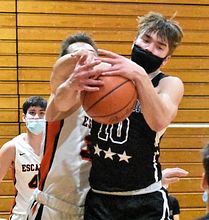 The Eskymo junior varsity team was also permitted to be there.

"You definitely want to come out and play in front of big crowds," Victorson said. "It's a part of the environment you hope to play for. But, hey, we got to play. I'm just happy to have a season. This is my senior year."

Coach Hudson agrees.

"If we don't have basketball, and we don't have any control, then they're going to do things that aren't safe," he said. "So I think it's better for them to be competing under the jurisidiction of the school, and following the safety protocols. It's exciting to have U.P. basketball again."

Escanaba will host Marquette Thursday night.

"That is going to be a war," Coach Hudson said.

Click the thumbnails to see photos and videos, including interviews with Victorson and Collin Hudson, and hear the audio interview with Coach Hudson.