TARGET ON BACKS: NCA Begins Quest For 3-Peat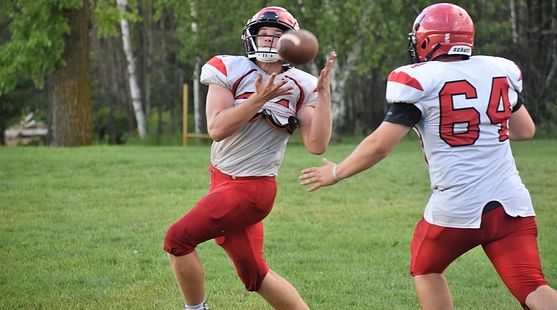 Click the thumbnails for practice photos and videos, as well as interviews with Luke Gorzinski, Jordan Messenger, Collin Cordy, and Coach Leo Gorzinski.

POWERS---The North Central High School football team has begun its second week of practice with one goal in mind: a third straight MHSAA state championship.

The Jets know they have a target on their backs, but are hoping to meet every challenge the way they have during the past two seasons: with victories. They went undefeated during a crazy coronavirus season in 2020 that didn't end until January of 2021, inside a small dome in Lower Michigan. And then in November, 2021, another state title in the big Superior Dome.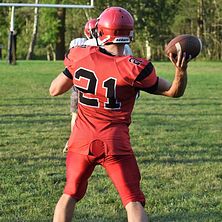 "Having the target on your back just drives you," NCA senior quarterback Luke Gorzinski said. "Having these guys together, they've been at the top, they know what it feels like. To be able to stay at the top, they know what it takes. I'm pushing these guys every day, and these guys push me."

NCA Coach Leo Gorzinski has been trying to hammer that home to his guys in practice this month, some of which have not been, in his opinion, stellar. He knows that a key injury, or other turn of misfortune, can derail what many people around the state believe will be that Triple Crown of state football championships.

Coach Gorzinski is trying to get his guys to understand that nothing is given, something that should have been learned in 2020 when noting was given, and everything was close to being taken away.

"If you're gonna put that Jets logo on your chest, you know what the expectatuons are," he said. "The guys have been working hard all summer. The biggest thing is focus. The past is just that, the past. If they think that someone is gonna just kay down because of what happened before, it's not gonna be that way. So, it's their job to get better each and every day."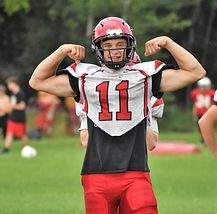 The guys say they understand this, even if the coaches; criticsm can be harsh at times.

"Coaches aren't really happy with what we do, good or bad," Jets receiver Jordan Messenger said. "We're gonna work our tail ends off. Every day, we are gonna get better."

"Coach (his dad) isn;t happy with any practice no matter how good we do," Luke Gorzinski said. "But this team, comaraderie and everything is coming together, and we can put together another successful season."

And it's a chance for guys who played supporting roles last year to really be leaders this year. One of them is lineman Collin Cordy, who feels he needs to step up after the graduation of All-U.P. lineman Lane Nehring.

"We have a lot of speed coming up and we've been working really hard in the off-season, and in the weight room," Cordy said. "I think we're ready. My role on the left end is to protect the quarterback's blind side. That was my role last season, and I need to do it again."

What does Cordy want to improve on?


"Probably my footwork, and my hand-placement," he said. "We're getting there."

Messenger says he wants to be one of the g0-to guys in the receiving corps, especially after the graduation of All-U.P. receiver Alex Naser.

"I'm ready to rock and roll," Messenger said. "I've always been there, making plays on second string on third and fourth down. I was the third and fourth down guy. But now, I'm ready to be one of the top four."

Having Messenger back, along with seniors Andrew Webber and Dillon Raab, will give Gorzinski plenty of targets. And All-U.P. placekicker Jaden Walters is back, a luxury that many eight-man programs simply don't have.

It's also a potential challenge for the Jets to find opponents for this season.

Some schools simply refuse to play NCA, even on their home fields, because they conclude that they will probably lose, and won't get the playoff points they need to make the playoffs. The MHSAA this season is solely using playoff pointsto determine the field, and seeding, with the number of wins a team has not being a factor on Selection Sunday.

Already, Carney-Nadeau has cancelled its varsity season, leaving a hole in the NCA schedule. And there are rumblings that a few other Eight-man teams are also having numbers issues, which could lead NCA to having fewer games to play in the regular season.

As of now, NCA is scheduled to open its season Aug. 26 against Gogebic.