THREE-PEAT PERFECTION: Jet Train Rolls Again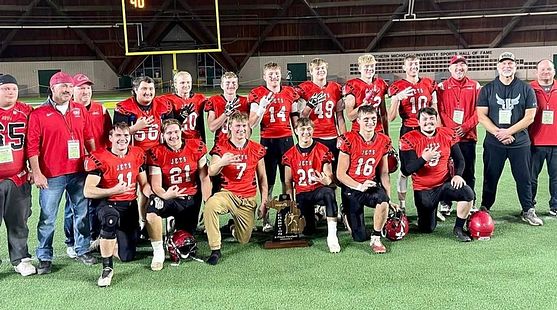 Click the AUDIO buttons to listen to Jerry Root's radio broadcast.

MARQUETTE---Mission Accomplished. Again. And the Train Never Stopped Rolling.

The North Central Jets completed a remarkable "three-peat" on Saturday with yet another dominating performance in the MHSAA Division Two Eight Man state championsip game, racing to a 35-0 lead and rolling over the Mendon Hornets, 66-26, at the Superior Dome.


It was the MHSAA state-record 37th straight win for the Jets, and very rarely have any of those wins NOT come by the mercy rule.

More importantly, it was the third straight MHSAA state championship for North Central, and the fifth state title since the 2015 season. This one, though, was the most dominating.

But there were anxious moments, as the leader of this Jets team, Luke Gorzinski, played the game on a severely-injured knee. The injury happened in last Saturday's state semifinal game in Marion, and Gorzinski did not suit up in any of the practices all week long in the Wells Sports Complex.

Gorzinski was not able to burn anybody with his usual running game. Instead, he had to limp around and become a pocket-passing quarterback.

Luckily, the stout NCA offensive line prevented the Hornets from harrassing Gorzinski, and he threw a career high 25 passes, completing 13 of them for 208 yards and four touchdowns.

Gorzinski carried the ball only once...for a one-0yard touchdown in the second half...and he caught one pass for 33 yards and another touchdown. That was a short pass that Gorzinski used his instincts to sprint (well, not exactly) to the end zone.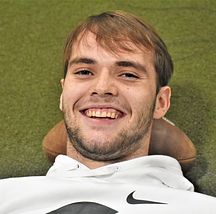 His father, NCA Coach Leo Gorzinski, kept his son's injury a top secret. It was so hush-hush for the entire week that the information was guarded better and more closely than any of our government agencies protect anything.

"Thank God they didn't catch on for a whole half that Luke Gorzinski can't run," Coach Gorzinski told MHSAA.com. "He never ran a single time, and they never adjusted or blitzed him. I'll praise God for that. Because if they would have blitzed him, I would have pulled him. That, for me, was the single thing – we knew they had a weak pass defense."

Luke Gorzinski didn't even want to talk about his injury after the game, just relishing the accomplishment of something that very few high school players ever accomplish.

"You come into this game knowing we could probably get the edge on these guys and we had good running out of our trip set, but with a bum wheel, we were limited," he told MHSAA.com. "We came out throwing a little more and put faith in our pass catchers, and they got it done."

Luke Gorzinski finished his NCA career with a total of 9,826 combined rushing, passing, and receiving yards.


There were plenty of Gorzinskis to go around.

Elijah Gorznski, another senior, took the game's opening kickoff to the house, 84 yards. Adrian Mercier banged through the extra point kick, making it 7-0.

Then Mendon fumbled the next kickoff. And Luke Gorzinski dumped off a short pass to Lane Gorzinski for a 14-yard touchdown. Another Mercier kick, and it was 14-0, and only 50 seconds had come off the Superior Dome clock.

And then just 2:19 later, Dillon Raab, another senior, raced 36 yards for a touchdown. Mercier's kick made it 21-0. But the train wasn't done rolling.

Luke Gorzinski passed to Lane Gorzinski for a 36-yard touchdown (Mercier's kick made it 28-0), and that is how the first quarter ended of a game that started nearly an hour late because the Division One state championship game in the Dome was a marathon.

The train kept rolling. Luke Gorzinski heaved a perect spiral to another senior, Dylan Plunger, for a 30-yard touchdown pass. A sweet moment for Plunger, who missed last season with a broken leg and had to go through extensive rehab to be able to plat again.


Mercier made his fifth straight kick (more on him in a moment) and it was a 35-0 lead with 4:05 left in the first half. And the familiar NCA theme: running clock, yet again.

Mendon was able to get on the board with a Jack McCaw 20-yard touchdown run, but the Jets responded with another Luke Gorzinski touchdown pass to another of his senior buddies: Jordan Messenger. That made it a 41-6 lead for the Jets at haltime.

McCaw had two long touchdown runs of 58 and 70 yards in the second half to give Mendon, a former Eleven-Man Division Eight powerhouse, some excitement. He finished the daywith 211 yards on 19 caries, by far the best performance against the Jets since the 2020 state title game by Portland St. Patrick.

But the Jets' train kept rolling, with 25 second half points, and the rout was on.

"If you watch what Jacob Gorzinski did today (on the ground), that's Luke to a T, that's Luke's specialty. With Jacob Gorzinski stepping up, with Lane stepping up, with Dylan Plunger stepping up, the heart that Dillon Raab showed up there tonight, all of them, Max Nason, Jordan Messenger, Andrew Weber," Coach Gorzinski said.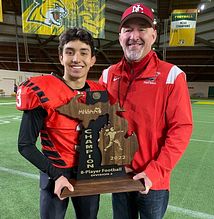 Mercier, meanwhile, a junior, set an MHSAA state record of his own. He made 60 extra point kicks this season, including six in the championship game (he did miss three kicks, all in the second half). Mercier's 60 PAT kicks broke the previous state record of 59, set by Adrian Lenaweee Christian's Bradey McKelvey's 59 extra point kicks last year.

And Mercier did it in 12 games (eight regular season, four playoff games) while McKelvey did it in 13 games in 2021. NCA this year had one less game played because Carney-Nadeau cancelled their varsity season and every team NCA tried to get to play them refused. The Jets ended up taking the forfeit win, but got no stats (or playoff bonus points) from that win.

Mercier, incidentally, got the kicking job only because senior Jaden Walters got hurt in pre-season practice. Walters still has the fourth-most PAT kicks in a season in MHSAA history, having made 49 of them in the 2021 season.

Walters was cleared to play this week, and he did do a kickoff, and he missed on a 35-yard field goal attempt.

Deensively for the Jets, Messenger led with 11 tackles (2 1/2 tackles for loss and one sack). Lane Gorzinski added ten tackles and Plunger had nine tackles.

The Jets returned home to a hero's welcome to Powers/Spalding Saturday night, with a celebration inside the NCA Gym. Finally, the train reached its final station.

For Now, that is. To Be Continued in 2023.

CLICK HERE TO SEE THE GAME'S STATS VIA MHSAA.