TRAIN STILL ROLLING: North Central Wins Again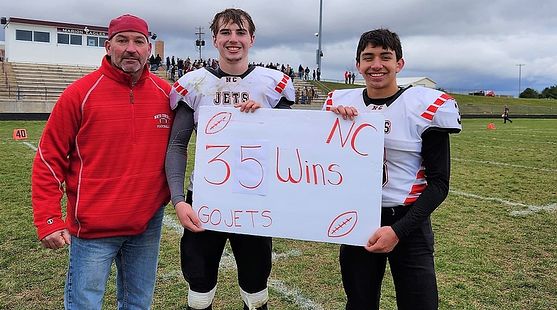 Click the thumbnails to listen to a replay of the game, and hear post-game comments from Dillon Raab, Luke Gorzinski, and Max Nason.

MARION, Mich.---The North Central High School football team faced its first challenge of the season on Saturday, but pulled away from the Marion Eagles, 36-12, in Lower Michigan. The win moves the Jets into the state championship game next Saturday at the Superior Dome.

It also extended NCA's state record winning streak to 35 straight games.

"That was one whale of a football game and I'm going to give the credit to that team over there, Marion," NCA Coach Leo Gorzinski said. "Those kids game plan, and they worked hard, and I know they had us circled on their calendar from the time we beat them last year. They gave us everything we could handle. But, then again, we are what we are. Once our guys got back in this game and they did their jobs, that's North Central Jets football."

And now, they will play in their third straight state championship game.

"This means everything," NCA senior Dillon Raab said. "From the start of the season, that was the goal, to get there, and win it. So, just being one step closer is huge. That was a great football game. There were big plays on both sides. We faced adversity and we overcame it. There's no more doubt. We can play a tough football game."

"It's amazing," NCA center and defensive lineman Max Nason said. "It's a legacy, something our school hasn't seen. We've seen the three-time basketball and two-time basketball (state championships, 2015-2017), but this is now another step. They're part of our legacy, putting our brand of football out there, showing everybody, the whole state, what North Central football is all about."

NCA struck first as senior quarterback Luke Gorzinski found Elijah Gorzinski for a 21-yard touchdown pass with 4:53 left in the first quarter.

"It helped that I had the wind in my favor," Luke Gorzinski said. "So, you can give me all the credit, but it was a heckuva catch by Eli. He's been there for me forever, so, to deliver in a big game like that, it was pretty awesome."

On the two-point pass, Raab threw to Jordan Messenger for the two-point conversion made it 8-0.

Marion, who the Jets routed last year in the playoffs, stayed tough.

The Jets fumbled the football at their own 30-yard-line. Quarterback Mason Salisbury ran it in from two yards out to complete a nice 30-yard drive.

The two-point play failed, so the NCA lead stayed at 8-6 going into the second quarter.

NCA took a 15-6 lead early in the second quarter on a one-yard run by Luke Gorzinski, and an extra point kick by Adrian Mercier.

The Eagles then put together a nice drive of their own, but Braden Prielipp was hit hard and fumbled the football at the NCA 24-yard line. The Jets drove deep into Eagles territory, but the Marion defense held, with the Jets also hurting themselves with two penalties.

The Jets forced a punt from deep in Eagles territory, and the punt went to the 36 yard-line. It took just one play for Luke Gorzinski to break free and he raced down one side of the field, then cut across to the other, used a Dylan Plunger block, and went to the house for the touchdown. Mercier's extra point kick made the score 22-6 for North Central.

The Eagles tried to respond, but Plunger intercepted the Salisbury pass, giving NCA a chance to add on to the lead heading into the lcoker room. But from the 44-yard-line, Gorzinski's deep ball went off Elijah Gorzinski's hands and was intercepted by Salisbury (on defense). He brought it back to midfield, and the Eagle offense had one more chance.

Salisbury threw a deep ball of his own to Prielipp to the Jets' one yard-line. On the next play, Salisbury went the final yard for the Eagels touchdown. The two-point conversion was no good, but Marion was within 22-12 ar halftime, and they had the ball first to start the third quarter.

Nason tipped his hat to Salisbury.

"I tried my best, I got there, but he's too quick, and he got away from me a couple of times," Nason said.

The third quarter proved to be a defensive stalemate, with neither team scoring, so heading to the fourth quarter, it was still 22-12. Finally, in the fourth quarter, Luke Gorzinski scored on a 14-yard touchdown run with 10:36 left in the game, and then Lane Gorzinski scored on a nine-yard run with 4:35 to play. Mercier made both PAT kicks, and the Jets won, 36-12.

The Jets ended up with 417 yards of total offense, and the Eagles wound up with 168.

Luke Gorzinski completed 13-of-23 passes for 234 yards and a touchdown. He also had 106 rushing yards on 21 carries and three more touchdowns. Gorzinski, in his four years as NCA quarterback, has 10,000 total yards (receiving, rushing, passing) in his career.

"The biggest stat I like is two state championships on the way to three," Gorzinski said. "10,000 isn't even in my mind. I don't care if I get a single yard in that game (next week) as long as we win. That's something (statistics) you worry about later, maybe hang it up on a plaque on my wall when I'm older, but right now, all I care about is winning with these guys."

Raab had 60 yards rushing on 12 carries. He also led the NCA defense with six tackles.

"We had to stick with what was working," Raab said. "They did a good job to really limit what was working. We just had to grind it out."

And so now, the 11-0 Jets have one game left: the state championship game next Saturday against Mendon in the NMU Superior Dome. Marion finished their season at 11-1.