Jets Begin Title Defense With Win Over Stephenson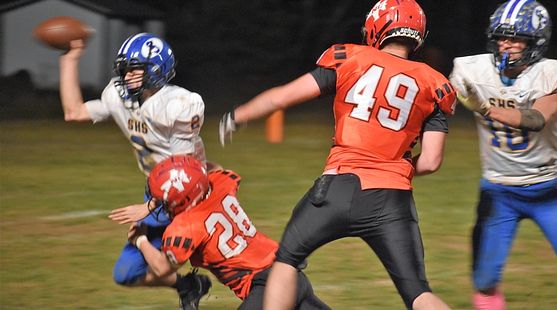 Click the thumbnails to see photos and videos, and listen to comments from seniors Luke Gorzinski, Andrew Webber, and NCA Coach Leo Gorzinski.

POWERS---The North Central High School football team began its quest for a third straight state championship Friday night with a 54-6 win over the Stephenson Eagles in Powers.

Luke Gorzinski threw four touchdown passes (two of them swing passes that turned into long runs) and he had two long touchdown runs for a total of six TD and 350 combined yards.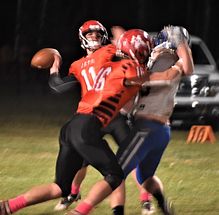 "It's playoff season," he said. "Whole new season, starting now. Let's keep the train rolling. All of these guys, they challenge each other every day at practice. All of them have their own competitve edge about them, their own personalities. One thing is similar about them: they hate to lose."

Well, losing is something none of these boys have had to endure. They ran the table in the coronavirus-interrupted year of 2020 to win a state championship, then won all 13 games last year to win another state championship.

The Jets have mercied every team they have played this season, and are 9-0 (plus one forfeit win) to run their winning streak to a state-record 32 consecutive games. NCA Coach Leo Gorzinski says there is zero chance his team will get complacent with that success.

"Not with this group," he said. "These guys, they've been friends forever. Birthday parties since kindergatren. These guys are the most competitive at anything that they do, but they also love each other. They love going to the battle each and every day."

"It's crazy," NCA senior captain Andrew Webber said. "We've been doing it together since fith grade, winning those games, and I wouldn't want to do it with anyone else. We hang out every single night, getting food together, hanging out at Dylan Plunger's house. R-Place (resturant in Powers). Wings every Wednesday. Taco Tuesday"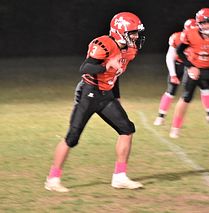 "It really means a lot, because I've always looked up to other people. For me to be in those footsteps, and being a captain, it means a whole lot to me."

Webber led the Jets defense with five solo tackles and one assisted tackle in the win.

Offensviley, Luke Gorzinski's swing pass to Elijah Gorzinski for an 85-yard touchdown just 14 seconds into the game got the ball rolling, and Luke Gorzinski would break off touchdown runs of 66 and 67 yards before the first quarter ended. The senuor quarterback also touchdown passes of five and 55 yards to Lane Gorzinski (yep, Gorzinskis every wehere you look), and then Luke zipped a 33-yard BB right up the middle of the field for a second TD strike to Elijah.

Lane Gorzinski capped the first half scoring with a 17-yard touchdown run, giving the Jets a 48-0 lead, with the extended Gorzinski family having a hand in all of it.

Well, not exactly. Placekicker Adrian Mercier booted all six of his PAT attempts, giving him 47 on the season, leaving him 12 kicks shy of the MHSAA all-time state record for extra point kicks in a football season. The only PAT kick missed on the night was a (feeble) attempt by senior Jordan Messenger in the second half, but he was all smiles after the miss as well.

As usual, the back-ups got to play the second half, with Jacob Gorzinski scoring on a 45-yard touchdown run in the third quarter to make it a 54-0 game.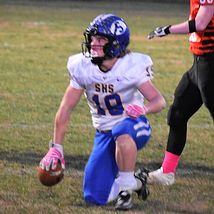 Stephenson (6-4) had its one moment in the fourth quarter after the Jets fumbled in the red zone and the Eagles drove 90 yards for a touchdown. Ethan Anderson's 19-yard run broke the shutout, and it was just the third touchdown allowed by the NCA defense this season (two of them by Stephenson). But before that drive, the Eagles had negative total yards,

NCA ended up with 517 yards of total offense, and Luke Gorzinski says they keep working on new wrinkles to make sure the offense doesn't get stale.

"I've been a part of this program for four years," he said. "Every year, you've got to add a new link to the system. Something else you can put on film (for opponents to see). Something else that you can pull out when times get tough. It's nice to see a different thing, and we're improving our game every single day."

The Jets now turn their attention to next weekend's regional championship game against Lake Linden-Hubbell. The Lakes battered Crystal Falls Forest Park, 44-12, on the road Friday night, and will come to Powers-Spealding with a 7-3 record. NCA beat LL-H, 50-0, in the regular season, but Coach Gorzinski says his guys will have to be ready for a battle.

"I love (coaches) Brett and Jamie up there at Lake Linden, they're a heck of a coaching staff," Gorzinski said. "They've got some really good kids up there. They play a really hard-nosed brand of football. They're going to be physical, so we're going to gear up and be ready."

And unless Gaylord St. Mary upsets Marion in the other match-up next weekend, the game against Lake Linden will be the last on the home field for the Jets. That's because Marion had 0.988 more playoff points than NCA did, so the semifinal game would be down there.

The state championship game is on U,P. turf, though, in the NMU Superior Dome.