Gladstone Braves Bounce Back; Top Hancock 45-16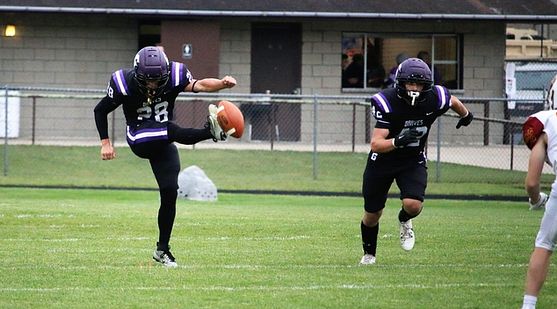 Click the thumbnails to see photos and videos from the game, and to hear post-game comments from Eli Berthaume, Isaac Ketchum, and Coach Craig Ness.

Also click the AUDIO buttons to hear player spotlight interviews with Gladstone seniors Jake Perryman and Josh Racine, and to listen to a radio replay of the game. Thanks to Scott Balenegr for some of the photos and videos.
GLADSTONE---The Gladstone High School football team bounced back from last week's tough loss in Kingsford Friday night by dominating the Hancock Bulldogs, 45-16, at the Marble Athletic Field. The Braves rolled to a 45-0 lead in the second quarter, and then the reserves, and even a handful of freshmen, got some valuable playing time as the team protected its top players from any potential injuries in the second half.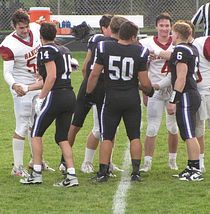 Austin Solis carried the ball seven times for 129 yards and three touchdowns. Eli Berthaume, normally a wide receiver, had six carries for 154 yards and a touchdown. And Isaac Ketchum pounded his way to 79 yards on nine carries. And all 362 rushing yards came during that first half.
Braves quarterback Nate Young only threw three passes all night. He completed two of them for touchdowns: six yards to Berthaume, and 20 yards to Kaden Gibbs. The third pass was also completed, but to Hancock's Ned Larson for an interception.
Gladstone's defense also contributed, with Elliot Vitito and Johnny Soderman both intercepting passes, again, both in the first half.
The young Hancock team, competing in this newly-created division of the West Pac Conference, battled hard, but just couldn't match the talent of the Braves. They did execute a nice play, though, in the second quarter, as quarterback Bryce Hanner found Zach Geborkoff up the middle for a 50-yard touchdown pass to break the shutout.
A two-point run by Eliot Asala made it a 45-8 game at halftime.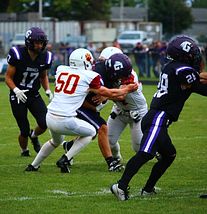 Hancock (1-3), playing against the Gladstone reserves, scored another touchdown in the second half, as Cody Turner ran it in from five yards out to cap a 66-yard, eight play drive. Larson's two-point run made it a 45-16 final score.
Gladstone's younger guys did not score in the second half, in fact, the Braves only got two first downs and never got the ball into Hancock territory.

But that hardly took anything away from the victory, as those guys got experience, and the Braves "regulars" lived to fight another day next Friday night on the road at Westwood.
The Patriots are 0-4 after they lost to Houghton, 34-16, Friday night. The Patriots have given up 190 points in their four losses, while scoring a total of 52 points.
Next Friday's game from West Ishpeming starts at 7:00. It will be broadcast live on Braves Radio, FM-93.5 and AM-600, and on-line at www.rrnsports.com.