Maroons Shake Off Slow Start To Roll Braves, 44-26
Click the thumbnails to see photos and videos, and to hear post-game comments from Landan Bardowski, Trevor Theuerkauf, and Jack Savard. Also listen to halftime interviews with Eli Berthaume and Bret Seger.

MENOMINEE---It's not the old single wing juggernaut that was run for decades under legendary Coach Ken Hofer, but this 2023 version of the Menominee Maroons football program has found something special as the team continues to roll along.
The Maroons won their sixth straight game Friday night as Landan Bardowski rushed for four touchdowns and Trevor Theuerkauf passed for two more scores in a 44-26 win over the Gladstone Braves at ancient (and crumbling) Waldon Blesch Stadium.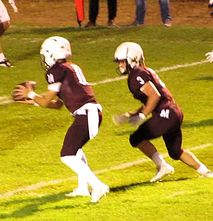 Bardowski scored on runs of 19, 1, 14, and 79 yards, and Theuerkauf delivered touchdown passes of 12 and 32 yards, and Theuerkauf converted on four two-point plays through the air. In all, the Maroons piled up more than 500 yards in total offense against a Braves defense that was playing without the injured Austin Solis and Ethan Larson.
It's hard to imagine, however, that even had those guys played, that the result would have been much different. Simply put, the Maroons owned the line of scrimmage on both sides of the ball from the second quarter on.
"We played great," Theuerkauf said. "Gladstone is a great team, and they came ready to play and it was a battle tonight. But I think we just played great tonight. The O-Line blocked very well tonight, I mean, holes were open all over the place. Bardowski ran hard, as hard as ever, and my receivers made great catches tonight."
"It all starts with the offensive line, and everyone being 'all-in'," Bardowski said. "I mean, nothing happens without the offensive line opening up those holes. I feel like my vision was really good today, and I was running pretty strong. So, I think all that helped. But, at the end of the day, nothing happens without the offensive line."
From Gladstone's point of view it was a bitter loss, similar to the one in Kingsford earlier this season.
One of the bright spots was the play on both sides of the ball by Nate Young, who had several jarring hits on defense, and delivered four touchdown passes in a losing effort, three of them to fellow senior Kaden Gibbs, and the other to senior Johnny Soderman.
Also on the positive was the play of young sophomore linebacker Jack Savard, who hit hard and had to step in to make tackles as Solis, last year's All-U.P. Dream Team linebacker, continues recovering from a leg injury.
"We played a little bit rough," Savard said. "There were a couple little things that we could have done better. I think the offensive line needed to block a little more because the slants were there."
Savard, though, wasn't all that thrilled with his own play, and being on varsity was an eye-opener for him.
"There's a lot of things that I could have done better. I need to wrap up (tackles) and get my head on the right side," Savard said. "Those JV things are getting to me."
The Braves got off to a good start as they took the opening kickoff and literally used half of the first quarter clock. They were methodical, only getting two first downs, and gaining only 30 yards, but they got into a good spot field position wise even though they had to punt on 4th and 5 at the Menominee 33 yard-line.
The Braves defense was strong against the run, getting a three-and-out, and they forced a short punt. Gladstone's offense got the ball at the Menominee 40 yard-line, and on 4th-and-7, Young lofted a pass right into the hands of Vitito for a 37-yard touchdown.
After Luke Ingrham punched through the extra point, it was 7-0 Braves, and almost ten minutes had gone off of the clock. But that's when the Menominee seniors stepped up in the huddle and said, 'enough is enough'.
"We needed to wake up," Bardowski said. "We can't let them score a touchdown, and then score another touchdown, and then wake up once we're down. We had to wake up right away, and I think we did a good job of doing that."
The challenge was met, as the Maroons went on a 74-yard, eight play drive that was capped on a Theurkauf 12-yard touchdown pass to Aaron Brunelle on third-and-six.
"We just had to stay focused, and come back," Theuerkauf said. "We knew we were going to get drives together. We know that we have a good offense. We put a good drive together and we came down and scored, so that was big for us."
Gladstone still led, 7-6, but the next three offensive possessions ended in punts, with the Braves getting only one total first down.
The Maroons went on an 85-yard drive that ended in a Bardowski touchdown run of 19 yards, and then another 80-yard drive that saw Bardowski go in from one yard out. That made it 20-7 at halftime.
The second half started much the same way, with a 81-yard drivem highlighted by a Theuerkauf 57-yard-pass to Eli Beal into the red zone. Bardowski's third TD run, this time from 14 yards out, made it 26-7. Theuerkauf's two-pass to Kaiden Bell made it 28-7.
Gladstone had to completely abandon its ineffective running game at that point, and the passing game found some success. Young threw one up on 4th-and-5 from mid-field that Casey Alworden reached way up to haul in inside the Menominee ten yard-line.
Young's nine-yard touchdown pass to Gibbs made it 28-13.
The Braves, though, couldn't stop the Maroons. It was another 70-yard drive, with a pair of third-and-long conversions, that helped them to find the end zone again. Theuerkauf passed to his younger brother Tanner, who was extremely wide open, for a 32-yard touchdown to make it 34-13 with 2:26 left in the third quarter.
And then, some trickery on the two-point play, as the Maroons rubbed salt in the would by executing a double pass for the conversion, making it a 36-13 lead for Menominee.
"We drew that one up this week," Theuerkauf said. "We were thinking about running it, and once we were in the huddle, we were like, you know what? Let's just do it. Let's try it out."
It worked, as Nathan Komp eventually scored the conversion.
Gladstone wasn't quite done yet. Young passed to Alworden for 30 yards, and then found Soderman in the end zone for a touchdown. It was an emotional touchdown for Soderman, who was playing with a heavy heart as his mother recovers in the hospital.
Inghram, a sophomore who has become a reliable placekicker for a Braves team that didn't have one for several years, punched through the extra point to bring Gladstone to within 36-20. He made both of his PAT kicks Friday night after making all five last week as well.
The Maroons had problems on the kickoff and a couple of penalties and a quarterback sack had them facing 3rd-and-21 on their own one yard line. They got a couple of yards, and then punted, giving the Braves a chance to get to get in the game with the whole fourth quarter still left to play.
Young found Alworden with a pass, which he caught, at the Menominee 20-yard-line. But the ball came out, and the referees ruled it was a fumble. Instead of a chance to perhaps close to within eight points, the Braves turned it over, and the Maroons quickly scored on a 79-yard touchdown run by Bardowski.
Gladstone was able to reply with Young's third touchdown pass to Gibbs, this time from 46 yards, to make it 44-26. The exhausted Gladstone defense just couldn't stop the Maroons again, as Menominee literally ran out the final eight minutes with another 62 yards, all on the ground, ending in victory formation at the Braves three yard line as time ran out.
And so, for now, the Maroons are in firm control of the West Pac Conference, as well a securing a state playoff spot. Menominee, though, have two hard games coming up against Kingsford and Negaunee.
For Gladstone, the Braves may be out of the conference race, and sit at 4-2 overall, but the schedule the rest of the way includes three games against teams with losing records: Houghton (2-4), Calumet (2-4), and Escanaba (1-5). If the Braves sweep those games, a 7-2 record would likely be good enough for at least a first-round home playoff game, and perhaps as many as two post-season home games.
Next Friday's game is Homecoming for Gladstone, as they take on a heartbroken Houghton team that lost on a last-minute field goal to Calumet, 17-16, Friday night. The Homecoming Game starts at 7:00 next Friday, and it will be broadcast live on Braves Radio FM-93.5, AM-600, and www.rrnsports.com.