Gladstone Braves Football Looks To Take Next Step

Click the thumbnails for practice videos, and to hear comments from quarterback Nate Young, receiver Elliot Vitito, lineman Vinny Howes, and Coach Craig Ness.

GLADSTONE---The 2022 season was a breakthrough year for the Gladstone High School football team. And now, a year later, the Braves are looking to make that next step: get by the Negaunee Miners and take a shot at playing in the state finals at Ford FIeld.


Negaunee made it there last year, and the Braves know that if they play the way they can, and get some luck along the way, they have the ability to make it to that big stage.

"We've been waiting for this since November," Gladstone Coach Craig Ness said. "It's a team unlike any I've ever coached. They all get along, they're so tight. It's just like one big group. They all stick together, and pretty much, if you find one, you find them all."

The Braves have been determined to make up for that stinging loss to Negaunee in the state quarterfinal game last November, in which they were in the game but could not make the big play in the second half. That loss has helped to drive the Braves effort ever since then.

"I feel great," Braves senior lineman Vinny Howes said. "I've been waiting since last season. I think we should be good. We only lost Big Putch (running back Cole Potier) and Mitchell (linebacker Cartwright), so if everybody stays sound this year, we should be pretty good. We're gonna have a lot more speed this year, so we should be able to cover more of the field. And we're gonna come out hitting. For me, I think I got a little faster, so that should help."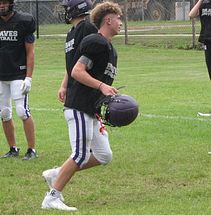 While Howes is the emotional leader of the Braves team, the unquestioned leader is quarterback Nate Young. He got his feet wet as a sophomore when senior Cam Kelly got hurt against Escanaba, and the experience paid dividends last year as Young developed as a muli-offensive threat with both his passing game and his ability to run.

"It's goof to be back out here and having fun," Yoing said. "I think it's cool that we'll play some teams that we don't usually play (in the new West Pac Conference). It should be a good year."

One of Young's biggest targets was Potier, who ran for more than 1,000 yeards last year and was a threat with screen passes and other throws from out of the backfield.

"He was an animal," Young said. "But we've got Terry (Austin Solis), and we're going to roll with him."

Solis found success last year, mostly in "garbage time", running behind Potier. But Solis is well-built, is one of the best westlers in the state, and also was an All-U.P. Dream Teamer as a linebacker on defense last year.

Young lost the graduated Tyler Darmogray as a deep-receiver threat, but hus other talented tagets are back: Kaden Gibbs (who played with a club on one of his hands for several games last year), Elliot Vitito and Eli Berthaume, both of whom were injured for parts of last season, and the tall tight end Aaron Hughes, who impressed as a sophomore call-up last year.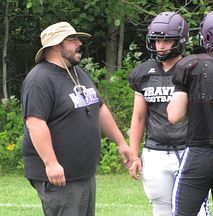 On the plus side, these receivers have all worked with Young since they were tiny.

"I'm just ready to get at it," Vitito said. "Nate's been my quarterback since middle school, and I"ve been playing with him ever since seventh garde. It really helps out. We (recoivers) are all basically in the same grade and the same age, it helps out a lot being friends with all of them. "

Ness says that despite the high expectations around his team, he knows that the Braves' schedule is super tough, especially with Marquette, Negaunee, and Kingsford in the first three weeks. The Braves will also play a playoff team in Calumet, and visit the rival Escanaba Eskymos in Week Nine.

Ness says there are no easy ones on the schedule, and he is not looking ahead.

"The only one I'm looking at is Marquette," Ness said. "We have a really big Marquette team coming in on August 25, and that's what we're gearing up towards. It's gonna be an eye-opener to see where we're at, and where we need to be. We've tried to take it slow (in early practices). We've got a veteran team, but you can only go as fast as you want to be ckean. So, we're trying to keep everything clean, so our installs are precise, and we're getting really good at what we do."

You can hear all of Gladstone's games, home and away, live oin FM-93.5 and AM-600 throughout Delta County. Listeners around the world can listen at www.rrnsports.com.