ELI RUNS WILD: Rouse Leads Flivvers Past Braves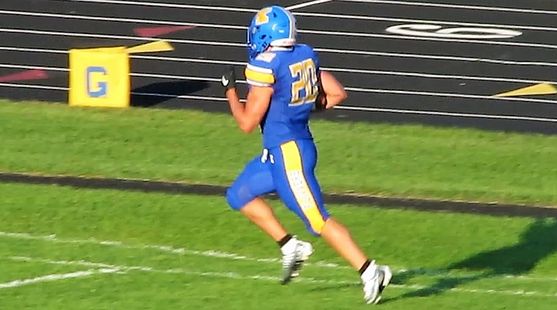 Click the thumbnails to see photos and videos from the game. Also click the AUDIO buttons to hear halftime interviews with Vinny Howes and Aaron Hughes, and post-game comments from Gladstone Coach Craig Ness, and Kingsford's Jack Kriegl. And hear a radio replay of the game.

KINGSFORD---Eli Rouse ran for 215 yards and three touchdowns, and the Kingsford Flivvers rolled past the Gladstone Braves, 35-12, in a battle of unbeaten teams Friday night, at Flivver Field. The Kingsford defense hassled Gladstone quarterback Nate Young all night long, scoring on a pick-six interception and on a fumble recovery in the end zone.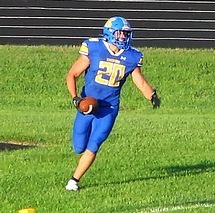 Gladstone had no answer for Rouse, who also delivered Kingsford High School's first-ever MHSAA Division Three wrestling state championship at 215 pounds last spring at Detroit's Ford Field. He's only gotten stronger, meaner, and better since then.

Rouse was stuffed on the first play from scrimmage Friday night, but on the second play, he ran up the middle, and when nothing was there, he bounced it to the outside, broke contain, and took it 79 yards to the house for a Kingsford touchdown. The extra point kick by Kaleb Fornetti make it a 7-0 game just 51 seconds into the contest.

Gladstone responded with a 75-yard drive of its own, with Young finding Kaden Gibbs for a 33-yard gain into Flivver territory, and then, on 2nd-and-17, Young found Gibbs again along the sideline, this time for a 39-yard touchdown pass that made it 7-6.

The two-point pass failed, though, so Kingsford maintained the lead.

The Braves gave up one first down to Rouse on the next series, but forced a punt from near mid-field. As he did all night long, Kingsford kicker Cardel Morton buried the Braves deep in their own territory, with this punt landing at the ten yard-line.
After what would become one of many five-yard false start penalties against the Braves, they were on their own five yard line. Young, in the end zone, was sacked, fumbled the football, and Noah Johnson (another wrestler) pounced on it for a Kingsford touchdown. Fornetti's extra point kick made it a 14-6 game.

Gladstone again responded. A seven-play, 70-yard drive was highlighted by a 32-yard pass from Young to Gibbs on a 3rd-and-12 play from midfield. Austin Solis punched it in for a 15-yard touchdown around the left side, and it was a 14-12 ballgame with 1:28 left in the first quarter. Who knew that the Braves would not score another point?

On the two-point play that would've tied the game, the Braves had an ugly sequence, as thy had two consecutive false start penalties. When they tried the play from the 13 yard line, the Flivvers, expecting a pass, blitzed, and Young never had a chance to operate.

Kingsford used a steady diet of Rouse on offense to get to the Braves 35 yard line, but he got banged up on the play and needed some medical attention on the sideline. Gladstone took advantage, sacking quarterback Nic Novara and getting him to throw two incomplete passes. That forced a Kingsford punt, which went into the end zone.
Young found Eli Berthaume for a 19-yard pass to the 39-yard-line, but another of those five-yard penalties proved costly and the Braves ended up punting.

The drive that killed the Braves happened next, as the Flivvers took over on their own 19 yard line and drove 81 yards in 14 plays, with Rouse going in from five yards out on third and goal with 28 seconds left in the half.

Fornetti's extra point kick put Gladstone down two scores at 21-12.

A key play on that drive for Kingsford happened at the other end of the field, when the Flivvers faced 3rd-and-14 at their own 15 yard-line. Novara delivered a perfect strike to Johnson in the middle of the field for a 32-yard pass that kept the drive alive.

Coming out of the locker room, the Braves had the ball first, with a chance to get a second half comeback started. But after a 13yard pass to Berthaume on the first play. Young's next pass was intercepted by Jack Kriegl at the 45-yard-line.

Gladstone was able to force a punt, but Morton nailed the Braves deep again, this time on the two yard-line. And three plays later, on 3rd-and-10, Young was intercepted again, this time by Gavin Trevillian. He took it to the house for a touchdown, and Fornetti made his fourth straight kick, giving Kingsford a 28-12 lead.
And then, on the first play of the fourth quarter, Rouse broke off another long run, this time a 25-yarder into the end zone that made it a 34-12 game (Fornetti's fifth PAT kick made it 35-12). And that's the way it ended, with a humbling loss for the Braves.

Young completed 9-of-19 passes for 170 yards, one touchdown, and three interceptions. For the season, he now has seven touchdown passes and seven picks in three games. On the ground, Young had 40 yards on six carries, no touchdowns, and one fumble.

Gibbs caught six passes for 134 yards and a touchdown. Solis had just 23 net yards of rushing on 12 carries, including that 15-yard touchdown scamper.

For Kingsford (3-0), Rouse had 215 yards rushing on 30 carries, and three touchdowns. In the air, Novara completed 6-of-13 passes for 95 yards, no touchdowns, and no picks. In fact,

Kingsford did not have a turnover in the game. Gladstone had four.

Gladstone fell to 2-1 on the season, and will face the Hancock Bulldogs next Friday night in Gladstone. Hancock is 0-3 after a 28-14 loss to Houghton Friday night.

Next week's game will be broadcast on FM-93.5, AM-600 and on-line at www.rrnsports.com.