'THIS IS SPECIAL' Braves Push Past Miners, 42-14

Click the thumbnails to see photos and videos from the game, and click the AUDIO buttons to hear post-game comments from Elliot Vittito, Aaron Hughes, Casey Alworden, Austin Solis, and Coach Craig Ness. Also click to hear Kaden Gibbs' halftime player spotlight interview.

GLADSTONE---The Gladstone High School football team used a strong defense and big-play offense to beat the Negaunee Miners, 42-14, Thursday night, at the Marble Athletic Field, in a rematch of last year's state quarterfinal game that Negaunee won.

The Braves, at least temporarily, got revenge for recent heartbreaks against the Miners, but more battles may lie ahead, as the teams could very well face off again in the state playoffs.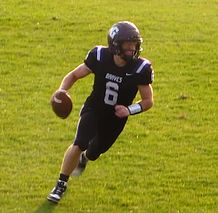 "This is special," Braves Coach Craig Ness said. "The guys remember what that felt like (last November, when the Miners eliminated the Braves). I expect to see them again. They're only going to get better. I would like to face them. Hopefully, it;s deep in the playoffs, and we both get there, we both stay healthy, and we have a great fan section like we did tonight."

"It was a great atmopshere tonight. But this one goes out to my team. Words can't describe how well I feel for them right now."

Gladstone scored touchdowns in the second half on offense, defense, and special teams, as they broke open it was an 8-7 game at halftime with a dominating second half.

Braves junior Casey Alworden took the second half kickoff to the house, 98 yards, putting the Braves up, 14-7. And then after Kaden Gibbs stopped Negaunee running back Kai Lacar on a fourth-and-three play at the Gladstone 25 yard-line, Braves quarterback Nate Young hooked up with Alworden for a 75-yard-touchdown pass on the slant pattern.

All of a sudden, Gladstone was ahead, 20-7.

"I just had the wedge started when I say 'go'," Alworden said of the kickoff return. "Have them start about ten yards ahead of me. I just tried to get to Max Wilson. Shoutout to him. He made a really good block, along with my other blockers. I saw a hole, and I was able to pop loose."


Then, Alworden scored on another big play, giving him 173 yards of running in two plays.

"There's no other feeling," he said. "Just open field ahead of you. It's all you see. It's like no other. This win means a lot. I wanted to do it for the seniors. The seniors wanted it and I'm glad that we got it for them."

One of those seniors is Elliot Vitito, who caught a 31-yard touchdown pass from fellow senior Young on 4th-and-11, when the Braves were down, 7-0. And Vitito stepped up on defense, intercepting two Ty Jacobson passes in the first half.

"Everyone put their hearts out there," Vitito said. "That's all that mattered. This is like a revenge game. We were all happy and qwe were all coming into this, and we beat them. Everyone gave their best."

Negaunee took the opening kickoff and drove 55 yards for a touchdown, with Jacobson hitting Ian Engstrom for a 26-yard pass into the red zone on third down. James Thomson scored on a four-yard touchdown run, and Kai Lacar made the PAT kick, making ot 7-0 Miners.

But the Braves countered with a 65-yard drive, started by a 24-yard pass from Young to Kaden Gibbs, and finishing with a 31-yard TD pass to Vitito. A two-point pass from Young to Eli Berthaume gave the Braves an 8-7 lead.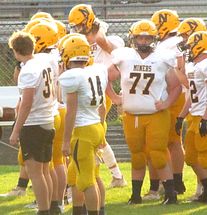 The teams exchanged interceptions for the rest of the half, with Vitito getting two of them for the Braves. The biggest, though, came in the final minute of the first half when the Braves were inside the Negaunee 30 yard-line. Young's pass was intercepted by lineman Eli Cody, and he took off in the other direction. But Gladstone junior Aaron Hughes somehow chased him down and tackled him at the Gladstone 27 yard-line. That kept Gladstone in the lead.

"Since last February, I got a gym membership and have been lifting ever since," Hughes said. "I put on about 30 pounds (of muscle). This win means everything. From last year, losing to them twice. And now, it feels amazing coming back at them."

"Him chasing that kid down on that interception, at 6-foot-5, 240 pounds, you should have felt the momentum on our sidelines," Ness said. "He busted his tail and got him. It went from a 'down' of an interception to a 'holy cow, we get to fight for another play'."

"If they would've scored that touchdown, the game would have been totally different," Vitito said. "I mean, he's in cross country. He's a big boy. He can move!"

In the second half, the Braves went up 28-7 after Austin Solis had his touchdown wiped away by a holding penalty, but Young passed 15 yards to Gibbs for a touchdown. The two-point run by Trevor Thorbahn made it 28-7 with 2:16 left in the third quarter.


Negaunee (1-1) put together a 13-play drive that ended in a one-yard touchdown run by Lacar, but the quick-strike Braves offense came back two plays later as Young passed to Berthaume for a 66-yard touchdown woith seven minutes to play, making it 35-14 after Thorbahn kicked the extra point.

And the icing on the cake was a "scoop-and-score" touchdown run of 53 yards by Young off of a Jacobson fumble. Thorbahn's PAT kick made it a 42-14 final score.

Young ended up with four touchdown passes, covering 189 yards (31, 75, 15, 66), and he had that fumble return for another score.

Despite the 42 points on the scoreboard, the Braves really won this game with their defense, as they stopped the Negaunee offense in Braves territory several times in the first half.

"We love to hit," senior Austin Solis said, "That's the number one thing we love doing. We knew every play was going to Kai (Lacar). I mean, we knew Kai was who we had to stop to win this game. First drive, we gave up some plays that hurt us. From then on, we were like, we're not giving them another yard. When we went into halftime, we said 'they are not going to score another point on us'. They ended up scoring once. But I think our defense held their own."

Gladstone improved to 2-0 on the season with a pair of home wins, and now take their show on the road to a tough environment next week: Flivver Field in Kingsford.

The Flivvers whipped Green Bay East and Houghton in the first two weeks, and have not allowed a point in either game.

The game next Friday night starts at 7ET/6CT and will be broadcast live on WCHT-FM/AM (93.5/600) in Gladstone, and on WZNL-FM (94,3) in Kingsford.

---MORE WILL BE ADDED TO THIS STORY THIS WEEKEND----