Broncos Defense Shines In 7-3 Win Over Kingsford

Click the thumbnails to see photos and videos, and to hear comments from Aidan Johnson and Kingsford Coach Matt LaLonde.

BARK RIVER---The Bark River-Harris Broncos baseball team got good pitching and strong defensive play from the left side of the infield and beat the Kingsford Flivvers, 7-3, on a cold Tuesday afternoon in Bark River.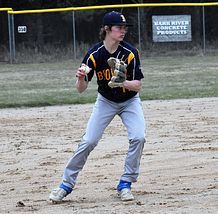 Zach Robinette pitched two scoreless innings, and then Aidan Johnson tossed four shutout innings before the Flivvers mounted a rally in the final inning.

Nick Javurek was stellar at shortstop, and Travis Mack was equally strong at shortstop as the Broncos were accurate in both fielding and throwing on the defensive side, committing just one error. That backed up the pitching of Johnson, who got the win in relief by serving up twelve ground balls in four innings (ten of them for outs).

Kingsford, playing its first game of the season, limited ace pitcher Andrew Paupore to three innings of work. He allowed an unearned run in the first inning before giving way to Nathan Bousley, and eventually, Carter Kreski.

That first inning run was the only one of the game until the bottom of the fifth inning, when the Broncos scored five times to take control.

Mack led off with a walk, then Javurek followed with a single. Zach Robinette's base hit brought both of them home to make it 3-0. Robinette scored on a grounder by Johnson, then after Johnnie Robinette walked, Carter Zawacki was hit by a pitch. With two out, Tyler Racicot hit a pop fly single to bring home one run, and Zawacki later scored on a wild pitch.


BR-H added a run in the sixth inning when Mack singled and scored on a double by Javurek.

But Kingsford rallied in the top of the seventh inning despite a 7-0 deficit. Connor Erickson and Henry McRoberts led off with singles, and Nic Nora's infield hit loaded the bases. Nathan Bousley followed with an RBI single to put Kingsford on the board, and Nathan LaVarnway's groundout brought in a second Kingsford run.

With one out and runners on second and third, Carter Kreski hit a grounder to Mack at third. He checked the runner, threw to first for the second out. Nora took off and scored but as he did, Bousely got caught in a pickle between second and third bases. The two Javurek boys, Joe at second and Nick at third, combined to get the final out as Bousley slid in at third base.

Johnson earned the pitching win in relief throwing five innings and allowing three runs on five hits. He did not walk a batter and struck out one. Zach Robinette gets a "no decision" after throwing the first two innings, allowing four walks and one hit. He fanned two.

Paupore threw three innings and got a no decision, allowing one unearned run on two hits and one walk. He struck out three, one day after committing to play college baseball at Concorida University in Wisconsin. Kreski takes the loss, allowing five runs (four earned) on three hits and three walks in 1-and-two-thirds innings.