ONE UP, ONE DOWN: Eskymos Mercy Menominee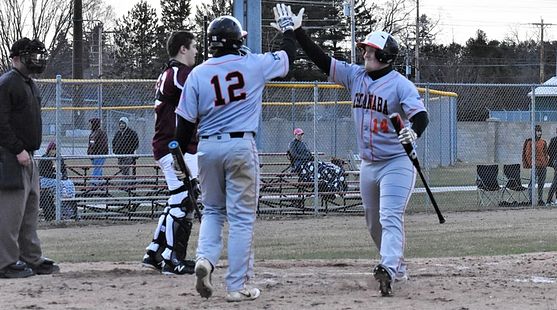 Click the thumbnails to see photos taken by Connor Aiken, and to see video clips and interviews with Collin Arnt and Riley Lamb

MENOMINEE---The Escanaba High School baseball team broke a scoreless tie with 12 runs over the fourth and fifth inning and mercied the Menominee Maroons, 12-1, Thursday in the season-opener at Menominee's Spies Field.

It was a typical sluggish season-opening game, with pitchers struggling to throw strikes and not-so-crisp plays in the field. But after squandering a couple of early scoring chances, the Eskymos took advantage of leakly Menominee defense and a dozen walks to pull away to the win.


The Eskymos stranded the bases loaded in the first inning and left two runners on in scoring position in the third inning. The Maroos stranded two base runners in all three of the first three innings, so the game was scoreless heading to the fourth inning.

Escanaba's Nick Kolich led off with a sharply-hit single, and there were four walks after that, along with a couple of wild pitches. The big hit was a Riley Lamb shot that brought in two runs, and even though Hunter Lancour was throwm out also trying to score, it was 4-0.

Menominee scored a run in the bottom of the fourth on an Austin Mallace ground out (after Kennison Boivin and Gable Buck led off with singles). But the Maroon pitching fell apart in the top of the fifth inning, with several more walks, and three errors that led to eight Esky runs.

Collin Arnt had the big hit that inning with a two-run double, and Kolich added an RBI single. The Eskymos had only six hits, but three of them brought in runs.

Lamb pitched three innings to get the win in the mercy-shortened game. Ben Johnson tossed the final two innings, allowing one run. For the Maroons, four pitchers took the hill, with Starzynski taking the loss.

Escanaba hosts Marquette in a doubleheader Friday at 4:00. Menominee is off until Monday, when the Maroons travel to Gladstone for a doubleheader.