ON THE MAP: Emeralds Open 1st Baseball Season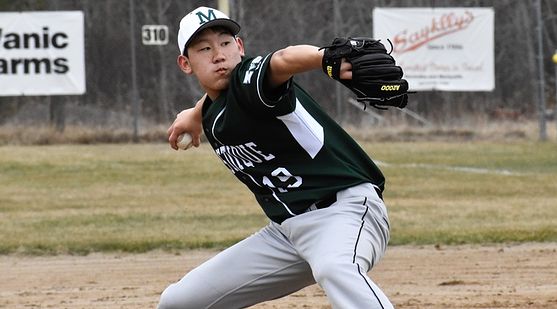 Click the thumbnails above to see photos and videos, and see/hear comments from Johnnie Robinette, Carson Sprader, Jack McEvers, and Bryce Blixt.

BARK RIVER---The Manistique High School baseball team took the field for the first time in school history on Saturday with a doubleheader against Bark River-Harris in Bark River.

The Broncos won both games, 7-1 and 13-1.

But for Manistique, the result wasn't the important thing. It was finally getting on the field for high school baseball. The school announced it would have baseball in September of 2019. But just before the season was set to go in March, 2020, the coronavirus pandemic hit.


The pandemic wiped out the entire high school spring sports season. Now, 13 months later, against the backdrop of a continuing pandemic, the Emeralds have finally been born.

"They (the community) is definitely excited," Manistique catcher Bryce Blixt said. "Most of the teachers and the staff, they're really ready to see what we have and what we can bring to the community. It just feels great being out there. Just playing for the first time in Manistique history, that we actually have a team, it just feels great."

"I'm real thankful for everyone who got us here," Manistique shortstop Jack McEvers said. "Parents, Coach (Jon) Bintner, it's just real nice to get back out there on the field this early in the year. They (teammates) are very excited. They're ready to play. They're happy to be here. Every one of those kids on the team wanted to be here today."

"There's been a lot of work," Manistique pitcher Carson Sprader said. "We've been trying to get this for years. It's finally nice to have one. It's great having these guys for our first year."

'The Emeralds took a 1-0 lead in both games on Saturday before the Broncos took control.

In the opener, Griffin Snider got the first base hit in team history with a line drive to left field. The Emeralds eventually loaded the bases on a walk and an error, and the first run came home on a fielders choice ground ball by Jude Way.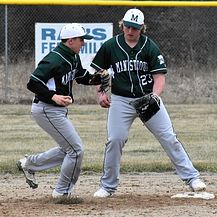 That was all they could muster against Broncos starter Nick Javurek, who pitched all six innings to earn the win. He allowed only two base hits, both of them to Snider.

Sprader threw the whole way for Manistique, striking out seven batters and allowing seven base hits. The Broncos scored four runs in the bottom of the first inning, with two of them coming in on a double by Tyler Racicot. Max Hall also had a two-run double that inning.

In the second game, Manistique again jumped to a 1-0 lead as Blixt walked, stole second (landing face-first in the dirt), and scored on another double by Snider.

Broncos pitcher Max Hall got out of trouble when Snider did not tag up on a fly ball to center field, and Manistique did not score again.

BR-H scored multiple runs on wild pitches, passed balls, and bases loaded walks. Johnnie Robinette went 3-for-3, drove in two runs, and scored one. Zach Robinette had two hits, a walk, and two runs batted in. Javurek had two hits and scored twice, and Mason Bower had two hits and two runs batted in.

Hall pitched all four innings of the mercy-shortened game, allowing one run on three hits and a walk. Manistique's Parkerf Graphos took the loss, going 1-amd-2-thirds innings and allowing seven earned runs on eight hits. Isaiah Brow worked the final inning and a third.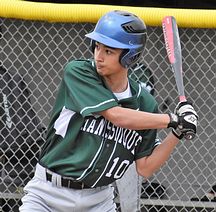 It was a long time coming for the Broncos as well, having not played since June of 2019, other than some summer league games last year with the Bark River Bucs.

"It felt pretty good to get back on the firld today because it's been a long time," Johnnie Robinette said. "We're going to be all right. We've got some pretty good pitching. The bats came out today. So we'll see how she goes. It was kind of nerve-wracking coming into it just because it was out first game in probably two years. It felt good to get two wins today and keep it going."

The Emeralds count it as a learning experience. Especially for Sprader, Blixt and McEvers who all traveled an hour in each direction last summer to play for the Escanaba Junior Cubs.

"It was good for a first game, but I'm hoping to buckle down more," Sprader said.

"It is nice that I don't have to drive an hour for practices so that's a plus," McEvers said. "But I love Esky and love playing for those guys.We lost, I think, 7-1, but it's early in the season and it'll come together. We're a good team and we just need to get it going."

The Broncos continue their homestand on Tuesday with a single game against the Kingsford Flivvers at 4:30 ET. Manistique will have its home opener on April 27 against Newberry.