ROLLING ALONG: Norse Women Win Again, 64-39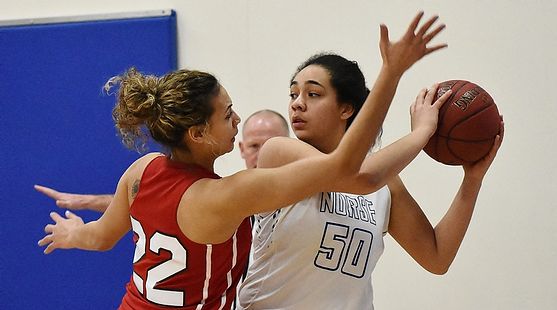 ESCANABA---The Bay College women's basketball team shook off a sluggish start and rolled past the University of Wisconsin-Marinette Buccaneers, 69-34, Saturday afternoon in Escanaba. The Norse won for the eleventh time in their last 12 games.

The Norse fellk behind, 6-0, and took more than five minutes to get their first points on the board. They eventually ramped up the defensive intensity, forcing numerous Marinette turnovers, with the Bucs often unable to get the ball across half-court.


Paige Welch had two baskets and a foul shot, and JuliAnn Wickman knocked down a triple and two-point basket as the Norse grabbed a 15-8 lead. In the second quarter, UW-Marinette's Faith Jorasz of Bark River-Harris sank a triple and two-pointer off the bench, but Wickman scored two more baskets and Bay led, 30-20, at halftime.

Marinette struggled even more in the third quarter, as the Bucs did not score a basket and was limited to five free throws in that ten minutes of playing time. Wickman added two more baskets and Jordan Kraemer scored twice and the Norse led, 48-25.

Wickman led the Norse with 15 points off the bench. Welch had 11 points and pulled down eight rebounds. Haley Trudell knocked down two triples off the bench as well.

Kraemer added eight points and nine rebounds for the Norse.

Marinette did not have a player score in double figures, with Jenna Thill leading the way with eight points. The Bucs fell to 7-2 on the year, with both losses coming to Bay.'

The Norse (16-6) will host the Lake Superior State University Junior Varsity team Tuesday night at 6:00. The game will be broadcast on Maverick 106.3 FM.

Click the thumbnails in the ARTICLE HIGHLIGHTS box above to see photos and video clips, and listen to Kaitlyn Hardwick's halftime interview. Also listen to BR-H graduate Mason Korhonen interview classmate Welch.