Big 3rd Quarter Leads Bay College Women To Win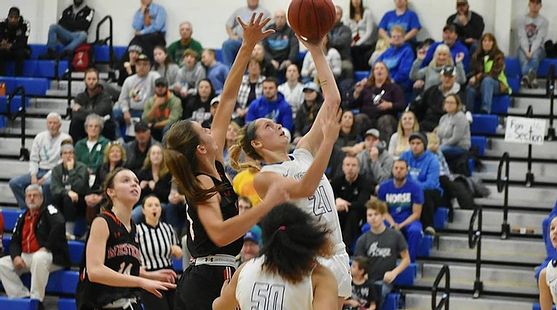 ESCANABA---The Bay College women's basketball team scored 27 points in the third quarter Saturday and pulled away for a 78-62 win over Western Technical College (Wis.). Jordan Kraemer scored 23 points and grabbed 11 rebounds for the Norse.

Bay led, 29-28, at halftime, before ramping up the defense and turning that intensity into points at the other end of the court.


The Norse led, 40-36, in the third quarter, efore going on a run, led by the Ackerman twins from Munising. First, Marissa Ackerman scored on a put-back while falling down to make it a 49-39 game. Moments later, Kelsea Ackerman scored off a nice pass from Kraemer.

Then after a turnover, Paige Welch connected with a triple to make it 54-39.

In the fourth quarter, St. Ignace's Keshia Davis made a basket and drew the foul for an old-fashioned three point play to give Bay a 64-45 lead.

Earlier, Gladstone graduate Taylor Hunter had a driving basket that also led to an "and-one" opportunity. Kraemer, a sophomore from Norway, scored nine of her 23 points during that big third quarter run.

Her basket off a pass from Mid Peninsula graduate Haley Trudell led to a three-point play opportunity that Kraemer converted, making it 40-32 at the time. Besides Kraemer's 23 points, Marissa Ackerman had ten points and Kelsea Ackerman scored nine. Ten of Bay's 13 players scored in the contest.

Western Tech was led by Lexy Schroeder and Lindsey Murphy with 13 points each.

The Norse travel to Ironwood next Saturday to face Hibbing (Minn.) Community College. Game time is 2:00. It will be broadcast on Maverick 106.3 FM and on-line at www.radioresultsnetwork.com.

Click the thumbnails in the ARTICLE HIGHLIGHTS box above to see photos and videos taken by Nate Bellville, and to hear interviews with Welch, Kelsea Ackerman, and Coach Rob Robinson.