Williams Wins GNC Title; Eskymos Finish Strong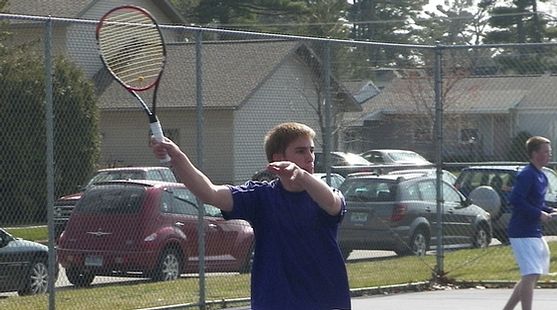 KINGSFORD---The Marquette Redmen, led by their foreign exchange student from France, rolled to the Great Northern Conference tennis championship Thursday in Kingsford. Julien LeCosquer defeated Kingsford's Caleb Harrington in the first singles final to seal the deal for the Redmen.

Marquette won the team score with 35 points. Kingsford had 29.

But Escanaba Coach Jim Hansen was happy with his team's performance, as the Eskymos ended up a solid third with 23 points.



"We had our best day of tennis so far this year and our performance as a team in the GNC since I've been coaching," he said. "We had seven of our eight in the semiinals, that's the most we've had since I've been here."

"We took third overall, tying the best place we've had since I've been here," Hansen continued. "We scored 23 points as a team which is the best point total we've had since I've been coaching. We also had two teams in the finals."
Escanaba's Kyle Pinozek made it to the GNC's #4 doubles final along with his partner, Nate Balenger.
The Eskymos made the finals at #2 doubles, as Steve Wood and Mike Shields battled Marquette's Zackary Toya and Justin Flood, before losing, 6-1, 6-2. And at #4 doubles, it was a war as Escanaba's Kyle Pinozek and Nate Belanger faced Marquette's Tristian Louma and Josh Collins. The Redman duo won, 6-4, 7-5.
Esky's Tyler Myrick, T.J. Myrick, and John Brant all finished third in singles play.
"We played our best tennis of the year so far today, and there was still room to improve," Hansen said. "We haven't totally peaked yet, but we took another step in the right direction. I'm really happy for the kids and they should be proud. They represented themselves and the school very well."

Gladstone's best performance came out of senior Dan Williams. He was the only Brave to finish in the top three, and he won a GNC championship at #2 singles.

Williams beat Kingsford's Adam Szabo in the final, in straight sets, 6-3, 6-2.

The GNC Conference Meet results:

TEAM SCORES
Marquette 35
Kingsford 29
Escanaba 23
Gladstone 13
West Iron County 12
Menominee 7

1. Julien LeCosquer, Mqt, def. Caleb Harrington, K, 6-0, 6-3. (Austin Waara, WIC 3rd).
2. Dan Williams, G, def. Adam Szabo, K, 6-3, 6-2; (Tyler Myrick, E, 3rd).
3. Daniel Harrington, K, def. Lucca Acevedo, Mqt, 6-3, 6-0 (John Brant, E, 3rd).
4. Alexander Shahbazi, Mqt, def. Joe Gregory, K, 6-3, 6-1; (TJ Myrick, E, 3rd).
1. Easton Viitala-Nicholas Weston, Mqt, def. Ryan Rogers-Andrew Peterson, WIC, 6-0, 6-4; (Dave Fix-Jake Eastin, E, 3rd).

2. Zachary Toya-Justin Flood, Mqt., def. Mike Shields-Steve Wood, E, 6-1, 6-2;
(Brock Francis-Alec Tuchowski, K, 3rd).

3. Ted Pietila-Sean Ryan, K, def. Michael Edwards-Kyle King, Mqt, 6-2, 6-4;
(Tim Baxa-Michael Kinsey, Men, 3rd).

4. Tristan Luoma-Joshua Collins, Mqt., def. Kyle Pinozek-Nate Belanger, E, 6-4, 7-5;
(Kyle Lefebvre-Jon Mitchell, K, 3rd).