Eskymo Duo Makes Strong Run; Miners Win Again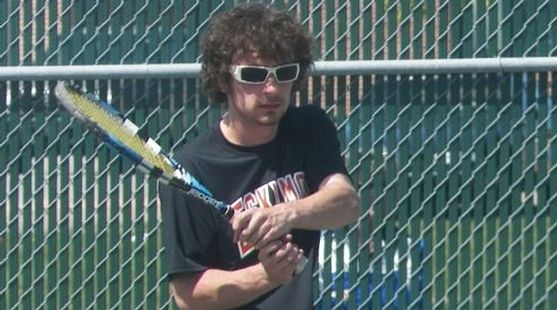 MARQUETTE---The Negaunee Miners were a machine on Wednesday at the MHSAA Division One Tennis Championships at Marquette High School.

The Miners won three of the four singles championships, and also took first place in three of the four doubles flights to win the team championship going away.


Eskymo Hunter Bradford serves.

Negaunee had 20 points while Marquette was a distant second with 12 and Kingsford was third with ten. It was Negaunee's third straight Upper Peninsula D-1 tennis championship.

Escanaba finished in fourth place with six points. And the EHS #3 doubles team of seniors Carter Murray and Hunter Bradford led the way for the on the MSHS Courts Wednesday.

The duo made a Cinderella run to the U.P. final round before losing to Kingsford's Ted Pietila and Sean Ryan, 6-4, 6-3.

Gladstone was fifth and Menominee sixth overall.

(Carter Murray is pictured above. His partner, Hunter Bradford, is at left)

The U.P. Finals results:

Singles
1. Julien Le Cosquer,MQT def. Dave Terzaghi, NEG 6-3, 0-6, 6-0.
2. Cody Tossava, NEG def. Adam Szabo, KNG 7-5, 6-4.
3. Kevin Price, NEG def. Lucca Acevedo, MQT 6-4, 7-6.
4. Rob Sertich, NEG def. Alex Shahbazi, MQT 6-1, 6-2.

Doubles
1. Luke Christianson/Nick Kill, NEG def. Nick Weston/Easton Viitala, MQT 2-6, 7-5, 6-4.
2. Austin Rice/Jordan Velmer, NEG def. Ryan Dahlstrom/Kyle King, MQT 6-2, 6-1.
3. Ted Pietila/Sean Ryan, KNG def. Hunter Bradford/Carter Murray, ESC 6-4, 6-3.
4. Tyler Beaumont/Eric Ludlum, NEG def. Kyle Lefebvre/Jon Mitchell, KNG 6-3, 6-0.


DIVISION TWO U.P. FINALS----The Westwood Patriots won their first-ever Division Two Tennis championship on Wednesday afternoon in Iron Mountain.


West Iron County's Caleb Pellizzer.

The Patriots edged West Iron County by a single point, 16-15, to take the championship.

Westwood won championships at #3 singles (Tyler Quayle), and at #3 doubles (Quinn Leroy/Mike Ostlund) and #4 doubles (Josh Nicholas/Derek Wing).

West Iron got wins at #1 singles (Austin Waara) and #4 singles (Alex Ralston).

Iron Mountain finished third place.

The Mountaineers had two champions, at #1 doubles (Gerry Pirkola and Max Frorenza), and at #2 doubles (Taylor Huotari and Henry Hakamaki).

Gwinn took fourth place as Derek Reetz won a title at #2 singles.