Kingsford Overwhelms Braves In Tennis Make-Up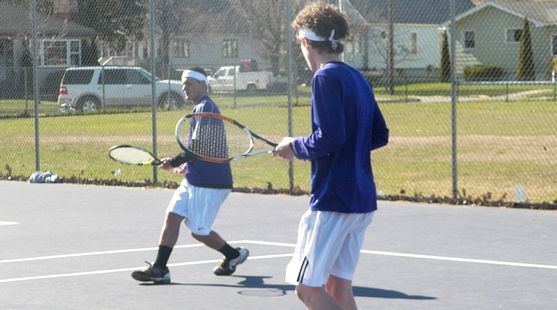 GLADSTONE----The Gladstone Braves tennis team was a bit shorthanded on Friday, and that's not a good thing to have happen when the Kingsford Flivvers come to town.

The Braves played without Dan Williams at #2 singles, and the Flivvers cruised to a 7-1 win at Pfotenhauer Park. The match was a make-up from Thursday's rainout.

"Dan Williams was out sick, and so all the singles had to 'move up'," Braves Coach Rich Trombly said. "Kingsford is a solid team. We played a good match, but not enough."

Gladstone's only win was at #1 doubles, as Bryce Wolf and Cody Frazer (pictured above) beat Kingsford's Aidan Wienke and Dalton Allen. Gladstone's #4 doubles team of Jeremy Kadish and Tyler Wells had a marathon first set, losing, 9-7, before falling in straight sets.

The Braves host Ishpeming on Monday at 4:00.

The results:

Singles
1. Caleb Harrington, K, def. Aaron Parmet, G, 6-4, 7-5.
2. Adam Szabo, K, def. Neal Sabin, G, 6-2, 6-1.
3. Dan Harrington, K, def. Hans Ahola, G, 6-2, 6-1.
4. Joe Gregory, K, def. Drew Griebel, G, 6-0, 6-0.

Doubles
1. Cody Frazer/Bryce Wolf, G, def. Aidan Wienke/Dalton Allen, K, 6-2, 4-6, 6-4.
2. Brock Francis/Alec Tuchowski, K, def. John Hammar/Josh DeVet, 6-4, 6-2.
3. Ted Pietila/Sean Ryan, K, def. Christian Tackman/Pete Weyers, 6-4, 6-4.
4. Jon Mitchell/Kyle Lefebure, K, def. Tyler Wells/Jeremy Kadish, 9-7, 6-2.