Escanaba Finishes State Runners-Up; Blues Third

Click the thumbnails in the ARTICLE HIGHLIGHTS box above to see photos and videos, and to see post-game interviews.

TRENTON--- The American Legion Class A Michigan State Tournament came to a close on Saturday and the Trenton Steel were victorious in the championship game.

Marquette and Escanaba faced off for the opportunity to play in the championship, and Escanaba came out on top 11-5. In the final, Escanaba hung with the talented Trenton team until the Steel pulled away late to win, 12-2.

CHAMPIONSHIP: TRENTON 12, ESCANABA 2 (6 INNINGS)---The Trenton Steel did not play any American Legion Baseball games this summer until this weekend, but the team received a waiver to play in (and host) this tournament after registering as a Legion team.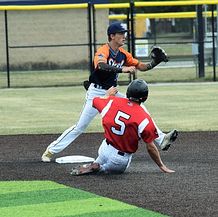 The Trenton roster includes mostly players who are either in college or have committed to play college baseball, including ace pitcher Ricky Kidd, who started against Escanaba on Saturday.

The Cubs, with mostly young players who are underclassmen in high school, made their way through the loser's bracket of this tournament after doing the same in the eight-team Zone Five tournament last week. On Saturday, the Cubs started young Manistique freshman Copper Curtis on the mound, and his slow pitching threw the Steel batters off, as they're used to facing pitchers who throw in the 80's, even touching 90 miles per hour.

Trenton had won its two games by a combined score of 34-2, and they had played only nine innings of baseball this weekend. But the Cubs hung in there, with Curtis allowing only one base hit in the first three innings of the game. Three walks and two errors helped Trenton get a lead, however, as Al Szczechowski scored on an error in the first inning and Braylon Hughes literally stole home due to Curtis's slow delivery motion.

Curtis had a gameplan for the Steel, "Really, they just wanted me to pump the strike zone and that's what I tried to do and they just kept hitting pop-ups and ground-outs so it worked out a little bit."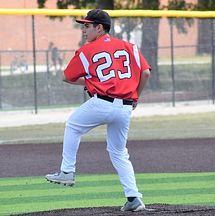 Escanaba, however, took advantage of Trenton mistakes as well. Bon LaChance singled off Kidd in the second inning, in what turned out to the the Cubs' only hit. He was bunted over to second by Nick Kolich and scored when Ben Johnson hit a fly ball to right-center field, and outfielders Szczchowski and Caiden Robinette collided.

"They gave us some chances too, the runs we got were on our hustle. So, compliments to our boys for sticking it out and having fun and battling," Escanaba head coach Jon Bintner said of the performance.

Then in the fourth inning, Chase Cloutier struck out but was safe when Kidd's pitch got away from the catcher. He stole second, and as he stole third, a throwing error brought him home. So, the young Cubs were in a 2-2 tie with a much older (and non-Legion) team.

In the bottom of the inning, the host team finally got to Curtis. Hughes walked and scored on a triple to right field by Kidd (he had three of them in the game). That triple was a pop fly down the right field line. Cubs right fielder Ben Johnson ran all the way from right-center and dove, but missed the ball by several inches near the foul line.

A sacrifice fly scored one run, and then LaChance, the cutoff man, tried to gun the back runner at third but threw it hard off the artifical turf past third, allowing another run to score.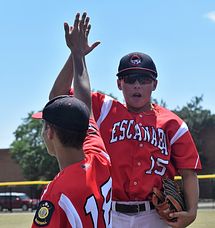 Curtis was lifted for Nick Chiu, who split his time this summer between the Cubs and Junior Cubs legion teams. Chiu gave up three runs in the fifth inning and three more in the sixth, turning a competitive game into a mercy rule contest with two outs in the sixth inning.

Nick Mator, in the #7 spot in the Trenton order, had three hits, a walk, and he scored three times. Kidd also had three hits, and Zach Dechane added two hits.

Escanaba had six baserunners against Kidd, who struck out ten batters, walked one, and allowed one hit in six innings of work.

"I couldn't ask for a better morale. Yeah we talk a little bit, but you know we've always said if you are going to talk you better be able to back it up and we keep trying to do it the right way." Coach Jon Bintner said after the game. "For our program moving forward, these kids are battling, having a good time, they're playing a game they love. They're playing a game they need to play more they can't be satisfied just playing a high school season. In the future we need all those high school kids to want to play more baseball."

Curtis spoke glowingly of his coach, "It's definitely a fun coach, I love him. He's a great coach he helps us a lot and I appreciate him coaching us."

The Cubs finished their season 16-13, and state runners-up.

SEMFINAL: ESCANABA 11 vs. MARQUETTE 5--- The Cubs rode a gutsy performance on the mound from Tony Derkos and the hot bat of Bon LaChance to a victory over the Marquette Blues.

In the U.P. Junior Legion Tournament earlier this month, Derkos started against the Marquette Reds and struggled for control as he hit seven batters and walked a handful more while the Reds knocked out the Junior Cubs 10-0 in Marquette.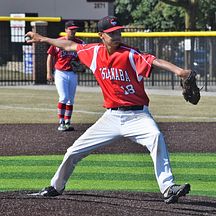 Early in the game Derkos hit two Blues batters but was able to settle in and keep the Marquette offense under control. While Marquette scored in five innings, they never got more than one run. Derkos struck out four while walking none and the Cubs played solid defense behind him.

"My plan was just to throw strikes and let defense do the work. I wasn't really going for strikeouts today I was trying to just let them get bat on ball and let defense work," Derkos said after the game.

Bon LaChance went 4-4 at the plate with two doubles, a triple, and a single while driving in three runs and scoring three times. LaChance drove the ball to all parts of the field and was the driving force in the Cub lineup.

"First at-bat I knew he was going to come off-speed, he started change-up then I was sitting slider and I took it opposite field and got two on that," LaChance said of his approach.

Keith Juidici had two hits and drove in a pair of runs for Marquette who had five players collect multiple hits. Logan Peterson, Parker Maki, Pete VandenAvond, Isac Sarles, and Juidici led the way offensively.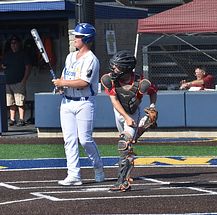 Marquette grabbed an early lead when VandenAvond singled to score Kyle Frusti.

Esccanaba scored twice in the second inning to grab the lead. LaChance led off with a double. Nick Kolich laid down a bunt and on a throwing error LaChance came in to score. Kolich ended up at third base and scored on a passed ball.

Marquette tied the game up on a Juidici double down the right field line that scored Parker Maki who singled.

Escanaba got the first of two four run innings in the bottom of the third. Two walks put runners on, and Jack McEvers singled to left field to retake the lead. With two runners on LaChance tripled to left field and brought home two runs. A ground out allowed LaChance to score.

Infield hits from Isac Sarles and Logan Peterson pushed another run across in the Marquette fourth, but with runners on second and third Derkos got a groundout to end the inning.

Each team tacked on another run in the fifth inning to bring the score to 7-4. Marquette kept the game within reach and was looking forward to a big final inning to extend the game, but Escanaba scored four more in the sixth inning to put the game away.

With two outs in the inning five straight Cubs singled to score the four runs in the inning. McEvers, LaChance, Kolich, Parker Frappier, and Ben Johnson collected hits to deal the final blow.

Peterson singled and scored on a Parker Maki double to open the seventh inning and it felt like Marquette could make the big comeback. Tony Derkos put a stop to the momentum sitting down three batters in order to strand the runners and win the game.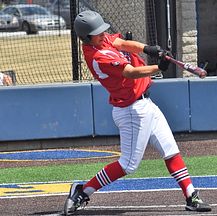 LaChance reflected on the matchup, "Very important, the last two we lost, and kind of a rivalry brewed up between our team with their coach and a couple of their players, it felt great."

The Marquette Blues failed to defend their State Title but came close placing third. The Blues had a pedestrian regular season but when the Blues and Reds came together the stars started to align.

In the zone tournament the Blues ran the table winning all five games to capture the zone championship and advance to the state tournament.

In their opening game Marquette looked to be cruising to a victory before Gaylord made a furious comeback to tie the game. Kyle Frusti came through with the big walk off hit to advance into the winner's bracket.

The Blues fell in the next two games, but their season was a positive in the first year under new management from Mark Pantti.