GRINDING IT OUT: Bay Ladies Win In Minnesota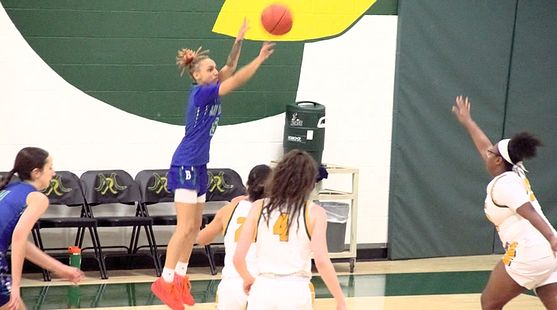 Click the thumbnails to see photos and videos, hear post-game comments from Ashlee Burchette and Coach Todd Ciochetto, and player spotlight Jada Freudinger.

VIRGINIA, Minn.---An ugly win is better than a pretty loss.

That's the cliché in sports, and, at least from the perspective of the Bay College women's basketball team, it fits Friday night's game against Mesabi Range. Bay struggled to score all night long, but managed to pull out a 62-55 win over Mesabi Range in a battle of two schools both nicknamed "Norse". Bay was able to win despite shooting just 26.7 percent from the field, turning the ball over 23 times, and making 58-percent of its free throw attempts.
Fortunately for Bay, Mesabi had similar struggles and the visitors were able to get away with a victory. But Bay Coach Todd Ciochetto was not mincing words after the game.

"We were bad," he said. "We've got to become better shooters. We've got to finish lay-ups. We've got to make open three's. We've got to know what (play) we're in. We've just got to play harder."

The Norse led the Minnesota Norse pretty much all night long, by as many as 13 at one point, but could not find a way to put the game away.

Ashlee Burchette, playing in her home state, scored a game-high 25 points, including 18 in the first half, Bay took a 37-27 lead into the locker room. But they had to hold on as Mesabi came back several times in the second half, including one time where they cut the Bay lead to three points.

"I'm glad we got the win," Burchette said. "We had to bring the intensity up and play harder. I feel like in the second and third we were kind of sloppy, but in the fourth, we pulled it together and got the win."

Kennedy Sproule had trouble finding her rhythm from behind the arch, making just two of her nine three-point attempts. She ended up with a double-double, however, finishing with 13 points and ten rebounds.
Sproule made a huge defensive play down the stretch when she blocked a three-point attempt in the final minute that would have cut the Bay lead to three. She grabbed the rebound off of the blocked shot, got fouled, made one free throw, putting the game out of reach at 62-55.

Late in the third quarter, Bay led just 45-42 when Camryn Carver-Bonner stayed with a missed shot underneath the basket. She put the rebound home, got fouled, made the free throw, for an "old-fashioned" three-point play that gave Bay a 48-42 lead. Bruchette then opened the fourth quarter with her fifth triple of the game, putting Bay back in front by nine at 51-42.

Mesabi (0-4) got a big second half from Nakiyah Nimene. She had just a pair of free throws in the first half, but scored eleven points in the second half to finish with a team-high of 13 points. That included a driving layup late in the third quarter that completed a 7-0 Mesabi run, bringing the home team to within 44-40.

Marquette native Siene Lingle ended up with ten points, six rebounds, and four steals. She scored four straight points in the fourth quarter that turned a 56-52 lead into a 60-52 cushion heading into the final minutes.

Bay (2-3) broke a three-game losing streak with the win. Ciochetto says his team will have to play much better on Saturday against Central Lakes (Minn.).

"It wasn't pretty, but like we said in the huddle, we have a chance to change that tomorrow," Ciochetto said. "Tomorrow's team (Central Lakes) is a much better team than the team we just played. They play hard, and they played well tonight (against Ellsworth). We have to have the confidence to do it. They're big. They're physical inside. If we're not in position, we're going to be in trouble. We're going to see who we are tomorrow, and which team comes out."

Game time is 1:00 ET/12:00 CT. It will be broadcast on Maverick 106.3 FM.