Marquette Redmen Earn GNC Victory In Gladstone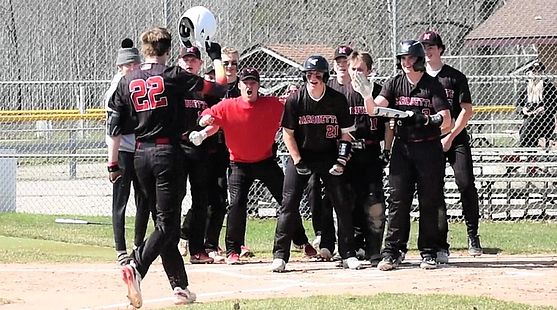 Click the thumbnails to see videos taken by Brad Landis, and to hear post-game interviews.

GLADSTONE---A great day for Marquette.
The Marquette High School baseball team jumped to a 4-0 lead in the first inning and held off the Gladstone Braves, 6-5, Wednesday evening at the Gladstone Sports Park.
But the baseball team's win over the rival Braves came a few hours after what may have been an even bigger win for the Marquette community, and for the Marquette Senior High School.
Federal prosecutors announced that three Nigerian citizens have been charged in connection to a "sextorition" scheme that happened 13 months ago to MSHS student Jordan DeMay, who killed himself after being tricked into posting nude photos of himself on Instagram.
The moment was not lost on Marquette manager Mark Pantti.
"I remember Jordy from Little League," Pantti said. "Before everything happened, in his senior year, we were trying to recruit Jordy in, and he was thinking about coming back to baseball. Just a geninuely loving, nice kid. His dad and mom are great people. We're thankful that they're getting some closure for the family. He's got a lot of buddies on this team, and it's we're thankful to see closure for the family and for all of Marquette. It's a great day for Marquette all around."
"Just to have that clarity, I think it will help Marquette," MSHS senior pitcher Isaac Sarles said. "We still mourn. But we're grateful for a conclusion."
Marquette scored four runs in the first inning on Wednesday, two of them on a home run by sophomore Gibson Jezewski.
"I knew I needed a line drive or something, just to get him (baserunner Easton Miller) to come in," Jezewski said. "Right pitch. Right swing. And out it went! We're all so proud of how we performed. Isaac pitched a great game. We had the bats going. To be able to beat Gladstone in Gladstone, it felt great for everybody."
Sarles threw a complete game for the Redmen, allowing eight base hits but scattering them along the way. Six of Gladstone's eight hits came by two men: Nate Young in the #9 hole, and Tyler Darmogray in the leadoff spot. Daromgray had a two-run triple in the second inning and a two-run double in the fourth, scoring Young both times. But Sarles threw 60 strikes among his 92 pitches.
"Gladstone is always a good-hitting team," Sarles said. "They're always going to play 'small ball'' (bunts). We knew that coming in. Our coaches set up a good defense. My inside fastball was really working. It was jamming them. They were popping out a lot, grounding out a lot. Curveball wasn't really working today, so I had to rely on that fastball."
Gladstone Manager Joe Darmogray was unhappy with his team's play, especially on defense, where errors, two in center field and two at first base, helped Marquette to score three unearned runs.
"We didn't deserve to win," Darmogray said. "You can't have that many errors in a game and expect to win. Their kid pitched well against us. We took way too many first-pitch, and second-pitch strikes right down the pipe. You've got to swing the bat. If you're not gonna swing the bat, I'll get somebody up there who wants to."
Lost in the shuffle was another superb pitching performance from lefty Brennon Detiege. He shut down Escanaba in relief last Friday in the Braves' win, and Wednesday night, he came in in relief of Braden Sundquisr, trailing 6-3 on the scoreboard, with the bases loaded and nobody out.
Detiege got three straight outs to strand those bases loaded, and then retired the Redmen in both the fifth and sixth innings with no runs. But Sarles answered for the Redmen, helped along by an outstanding play on an over-the-shoulder catch at second base by Eason Miller with the tying run at third in the final inning.
Marquette improved to 5-5 on the season, breaking a five-game losing streak after a 4-0 start. The Braves fell to 4-2 on the season.
Gladstone's junior varsity team beat the Marquette JV's 6-1 in Wednesday's late game.