Escanaba Wins GNC Title; Schone Takes #2 Singles
KINGSFORD---The Escanaba Eskymos girls tennis team won the Great Northern Conference championship for the second straight year on Wednesday in Kingsford.

The Eskymos edged Marquette 25-23, although Marquette won championships at four flights and Escanaba won only three titles. The Eskymos won the team title, though, thanks to their depth across all eight flights. Gladstone finished third in the conference with 11 points behind Tia Schone's GNC championship at #2 singles.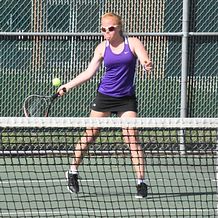 "Overall, the whole team showed up and played well today," Escanaba Coach Chris Ogren said. "This was a true team victory where every player's contributions were essential to winning the conference tournament. Now that the conference tournament is behind us, we will focus our attention on the Division 1 UP Finals next Wednesday in Kingsford."

Escanaba's #1 singles player Sophia Serkos stayed undefeated on the season to win the GNC title. Also, the #1 doubles team of Delaney McIntyre and Natalie Williams, and the #2 doubles team of Leslie Purcell and Sam Manninen won championships. Ogren says the #2 doubles win for his team was impressive.

"Leslie and Sam lost their first set, and were down 1-5 in the second set before coming back to win the second set and then going on to win the third as well," Ogren said. "It was the biggest comeback that we've had on the team all year, and it couldn't have come at a better time."

Marquette #3 singles player Cecelia Jacuzzo, and #4 singles player Natalie Deneau both won GNC championships. The Redettes also won at #3 doubles with Eliina Brazeau and Nistha Gutam, and the #4 doubles team of Lexi Hammerstrom and Lynsdey Lake were GNC champs.

GNC Final Team Totals
Escanaba – 25
Marquette – 23
Gladstone – 11
West Iron County – 9
Kingsford – 8
Menominee – 4
Munising - 0