ALL TIED UP: Redettes, Eskymos Play To 4-4 Draw

Click the thumbnails to see photos and videos, and listen to interviews with #1 singles players Sophia Derkos and Kaia Miller, and Marquette Coach Karl Thomsen.

ESCANABA---The Marquette Redettes and Escanaba Eskymos girls tennis teams had some very competitive matches on Tuesday, and the result was a dead heat. The dual meet ended in a 4-4 tie as both teams won twice in singles flights and twice in doubles.

"This was a great tennis meet all around," Escanaba Coach Chris Ogren said. "Just about every girl on our team played their most competitive match of the year today. Three of the matches were able to go to a third set, and there wasn't a blowout anywhere."


"We're a veteran team, but by saying that, it's kind of weird, because we haven't experienced a lot of wins," Marquette Coach Karl Thomsen said. "But we're starting to figure out how to play. We've had a nice start to the season."

On Tuesday, the #1 singles match between Escanaba's Sophia Derkos and Marquette's Kaia Miller was the marquee match-up. Derkos started off by winning the first five games before Miller could get on the board. Derkos finished her off, 6-1, then the second set was close throughout before Derkos won the last three games to close the match with a 6-3 win.

"I think it went good," Derkos said. "It was more intense toward the end. The first set was a lot more, like, fast. The second set was harder and more time-consuming. I was just trying to mix up the speeds of my shots, moving her side to side. The wind was bad, so it was hard to do that, but you just have to judge where it's blowing. You aim more to the left if it's blowing to the right. The last game was real long."

Miller says she did her best against perhaps the U.P.'s top player.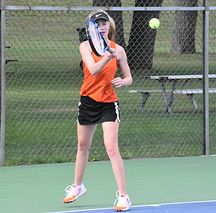 "Oh, she did a lot of things well," Miller said. "She's a VERY goof player. It was probably the best match that I've ever had. I mean, I gave it my all. The second set was definitely a lot closer. I was just focusing, like, 'this is what I have to do, I really have to put all my effort in'. Overall, I'm happy. I think it was a really good match. I tried my best. She's just the better player."

"Kaia is a backboard, is wat she is," Thomsen said. "She doesn't miss many balls, and if you're gonna beat her, you're gonna have to work to beat her."

Escanaba also took the second singles match, wirh Sonya Maki outlasting Marquette's Annabella Martinson, 6-4, 6-3. Marquette won the other two singles matches, with Cecelia Jacuzzo rallying at #3 singles to beat Esky's Molly VanDamme. Jacuzzo lost the first set, 6-1, but then won the next two, 6-3, and 6-4.

At #4 singles, Marquette's Natalie Deneau avoided a third set with Escanaba's Maggie Martin by winning the second set tiebreaker, 6-3, 7-6 (6-4).

At #1 doubles, Escanaba's Delaney McIntyre and Natalie Williams pulled out a back-and-forth three-set match over Marquette's Payton Pleugh and Payton Bullock. The Esky girls won the first setm 6-2, before the two Paytons tied the match with a 6-4 win in the second set. McIntyre and Williams roared back to win the deciding third set going away, 6-0.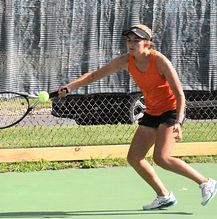 "They played their best tennis so far this year," Ogren said of his #1 team. "They were up 4-1 in the second set before Marquette ran off five straight games to win the second set. But our team remained calm and was able to put together a great 6-0 set to finish the match. Both girls served well, played the net well, and just played all-around good tennis today."

Escanaba's #2 doubles team of Leslie Purcell and Sam Manninen also went the distance against Marquette's Hosanna Brindle and Maija Parkonen. It was nearly the same script as the #1 doubles match, with Esky winning the first set, 6-3, losing 6-2, then winning, 6-1.

"They played really well in the third and started placing the ball in the right spots," Ogren said. "Once they figured out the right strategy to play, they really it a groove and looked like a much different team."

Marquette's #3 doubles team of Eliina Brazeau and Nistha Guatam won in straight sets, although, again, not easy, 6-4, 6-2, over Escanaba's Isy Braun and Sophie Wagner. And the Redettes' #4 doubles team of Delana Sprow and Lyndsey Lake did the same, 6-3, 6-4, over Escanaba's Carly Bowden and Molly Smale.

"We have some sophomores playing who have some good strokes," Thomsen said. "They've just got to get some more play experience. I think once we get more match experience, and figuring out those tight spots, because our kids just haven't been there before. I think us, Negaunee, Escanaba, Wesatwood, Gladstone, it's going be a big mess there at U.P.'s, which is fun."

"Tough matches like these are what help our girls see what we need to work on, and really drive us to improve," Ogren said. "We'll see Marquette again in a couple of weeks, and I'm sure we'll be in for another fun one."