Kingsford Wins Junior Legion Title Over Marquette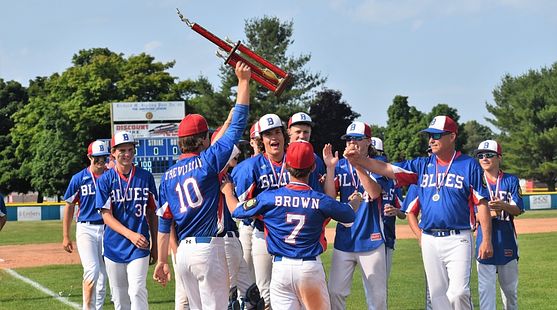 Click the above thumbnails for photos and videos from the games. Also click the AUDIO butons to hear post-game comments from Kingsford's Aiden Ellis, Gavin Trevillian, and Jack Kriegl, and Marquette Manager Mark Pantti. This story was written and the pictures and videos were taken by RRN Intern Braden Kerr.

MARQUETTE--- The Kingsford Junior Legion Blues captured the U.P. championhship Sunday with wins over Bark River and Marquette. Marquette beat Escanaba 10-0 in the first semi-final and Kingsford bested Bark River 9-2 in the second. In the championship game the Blues prevailed by a score of 5-1 over the Reds.
Marquette Reds 10 vs. Escanaba Junior Cubs 0
Isaac Sarles led the way for the Reds on the mound throwing a complete game shutout while Gib Jezewski did work at the plate driving in four runs in the victory.
Sarles scattered three hits in five innings of work while striking out five and only walking two. At the plate Sarles also got a hit and drove in a run for the Reds.
Tony Derkos pitched for the Junior Cubs and allowed seven hits, ten runs, all unearned, struck out one, walked one, and hit five batters including Brody Caster three times. Escanaba commited eight errors in the field. Nick Chiu, Cannon Arnt, and Willie Derkos had hits for Escanaba. Marquette used two big innings to secure the victory. The Reds scored four runs in the first inning and six runs in the fifth inning.
Four errors and two HBPs in the first inning pushed four runs across to get an early lead for Marquette.
In the fifth inning two errors and a HBP scored one run and put two runners on base. Dallas Cobe singled home two runs, Ian Sheltrow doubled to drive in Cobe, and Gib Jezweski singled home two runs two reach the mercy rule.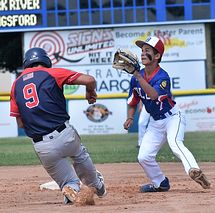 Kingsford Junior Blues 9 vs. Bark River Bucs 2
Bark River and Kingsford traded runs in the first inning before Kingsford scored in the third and the fifth to pull away.
In the top of the first Ethan Ives was hit by a pitch and scored when a dropped third strike led to an error at first base. Jared Reynolds singled to bring home Reese Korhonen.
Garrett Brown walked to leadoff the Kingsford half of the inning and scored when Gavin Trevillian doubled to left field. Nic Novara singled home Trevillian to even the score.
After the shaky first inning, Cole Baij settled in for Kingsford and would be dominant going forward. Baij allowed four hits and two runs, both unearned, over six innings while striking out seven and only walking one.
Ethan Ives took the mound for Bark River. Over five innings Ives allowed nine runs, eight earned, on twelve hits while walking three. The Kingsford lineup got better each time through against Ives.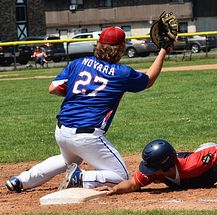 Nic Novara collected two more RBI when he doubled home Andreas Finley and Trevillian in the third inning. Novara scored on a Bark River error to make the score 5-2.
Four Blues collected RBI in the fifth inning to blow the game open. Jake Powell singled, Mason trudeau hit a sacrifice fly, and Garrett Brown and Trevillian both doubled home a run to make the game 9-2.
Jared Reynolds went three for three in the game and drove in a run for the Bucs.
Kingsford Junior Blues 5 vs. Marquette Reds 1
The U.P. Championship game saw the rubber match between two teams that had split a doubleheader played earlier in the season.

Kingsford had bested Marquette 11-0 in the first game before Marquette responded with a 4-1 victory. The teams had been on a collision course for the title since that day.
Gavin Trevillian got the start for Kingsford and Braden Noskey was tabbed for Marquette.

Kingsford took advantage of two mistakes in the first inning to score a run. Trevillian was hit by a pitch and scored on a throwing error from Marquette.
In the second inning Gavin Grondin and Jack Kriegl singled and Cole Baij hit a sacrifice fly to score Grondin.
Kriegl had started the first game, but was replaced by Jake Powell due to soreness in his arm. After Powell was injured in a play at first base in the earlier game, Kriegl returned behind the plate for the second game.
After the game Kriegl said, Friegl "I like catching, it's my main position, my arm was a little sore in the first game today so I sat that one out and then once Jake rolled his ankle I knew that I had to go in and catch for us."
Trevillian was in control from the jump for Kingsford sitting down the first three Reds in order. In the second inning Easton Miller led off with a double and then an error put runners on second and third. Trevillian struck out the next two batters and induced a ground out to escape the inning.
When asked about what worked for him today, Trevillian said, "For sure, my curveball was moving great today, I have the slider that I have been working on a lot. I'm starting to get the hang of it. I just threw a lot of junk today honestly, they weren't really seeing the curveball or slider great so I threw a lot of those today."
Marquette coach Mark Pantti said of Trevillian and his team's approach, "All GNC pitcher, thats kind of what we expected coming in, he did a great job for Kingsford. We've kind of struggled with higher level pitching all year, but they started hitting him and we just fell short."
Andreas Finley led off the third inning with a triple to deep right-center and was driven home by Aiden Ellis who collected two hits in the game. Grondin and Kriegl singled again to load the bases. Ellis scored on a passed ball, but a strikout and a ground out ended the threat.
Ellis said, "At first I coud not hit really good and I just popped out,and then I got a good nice centered hit."
Logan Peterson would come on in relief for Braden Noskey to start the fourth inning. Peterson walked the first batter before Trevillian doubled to bring Garrett Brown all the way around from first to make the game 5-0. Peterson would not allow another run in his three innings of work.
An error and an infield single from Gib Jezewski put Marquette in business in the bottom of the fourth inning. Kriegl threw out Jezewski trying to steal and Trevillian struck out Nick Pantii to get two outs. Brody Caster drove in Easton Miller when he reached on an error from Garrett Brown.
In the bottom of the sixth Isaac Sarles and Miller singled to begin the inning, but the next three batters each failed to reach base and the game ended with two runners on base.
Gavin Trevillian picked up the win scattering five hits over six innings, allowing one unearned run while striking out seven and walking no one.
Braden Noskey was tagged with the loss allowing four runs, two earned, on six hits in three innings of work while walking one and striking out two.
In relief Logan Peterson allowed one run on two hits walking four and striking out one.
Easton Miller collected two hits and score the lone run of the game for Marquette.
Aiden Ellis, Gavin Grondin, and Jack Kriegl had multiple hits for Kingsford while Ellis, Trevillian, and Cole Baij drove in runs.
After the game Trevillian and Kriegl talked about the hard work that the team put in to get to where they are.
Kriegl said, "I feel pretty good. We've been working for this a while. A lot of work and we finally got to do it. It feels great."
Trevillian said about the past and the future, "We've been playing travel ball all around Wisconsin and northern Michigan all leading up to stuff like this and high school ball, it's going to be fun."
The Kingsford Junior Blues captured the U.P. Junior Legion Championship and improve their record to 13-2 on the season. They will be in action again on Wednesday in Gladstone at 6 PM ET.

After the game Coach Pantti said, "We talked about this after the game four years ago, this same group went down and got mercied 29, 30, 26-1 and the progress that they have made over the past four years is just unbelieveable. Where we're at going forward for our legion and high shcool program, it's amazing to see where we're at."
Marquette fell to 16-5-1 on the season coming up just short of the title. The Reds travel to Ishpeming on Tuesday where they will play at 5 PM ET.