Kolich, Chiu Lead Esky Cubs Past Marquette Blues

Click the thumbnails to see photos, videos from the game. Click the AUDIO buttons to hear post-game comments from Nick Chiu and Nick Kolich.

ESCANABA---It was a win that came with a 'Nick of Time'.

Nick Chiu celebrated his 17th birthday with three hits and five runs batted in, and Nick Kolich threw two innings of relief to earn the save as the Escanaba Cubs won a wild 12-10 game over the Marquette Blues Wednesday night at Al Ness Field in Escanaba.


"Well, I knew that the kid was pitching a little faster than I was used to," Chiu said. "So, I just kind of shortened up my swing and kind of went to a two-strike approach right away, shortened my step, and then, when I seen the ball there, I just swung!"

The Cubs jumped to an early 7-0 lead, then held on as the Blues rallied with a six-run inning against Escanaba pitcher Parker Frappier.

Escanaba jumped to a 5-0 lead as Marquette starting pitcher Kyle Frusti struggled to throw strikes. Chiu had a two-run single during that inning.

Then in the third inning, Jack McEvers smoked a double and scored on a Bon LaChance double, and then Chiu singled again to bring home another run to give the Cubs a 7-0 lead.

But in the fourth inning, the Blues battered Frappier with six runs on seven base hits. Brenton Bellanger and Eli VanBuren had RBI singles to make it 7-2, then Dallas Cobe's sacrifice fly made it 7-3. Frusti followed with a two-run double to make it 7-5, then Keith Judici singled home a run to bring Marquette to within 7-6.

In the bottom of the inning, Blues pitcher Parker Maki suffered a hamstring injury, so he was replaced by his younger brother Dakota. Chase Cloutier greeted him with a base hit, then LaChance got his second RBI hit of the game to give Escanaba a 9-6 lead.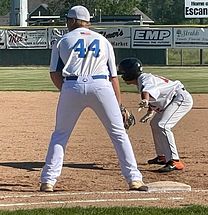 Frappier left the mound in the sixth inning after giving up seven runs on ten hits, bringing in Kolich, who is a 19-year-old "super senior" but had only pitched once this summer.

The rustiness showed as he walked one man and hit two others with pitches, loading the bases with one out.

But Kolich dug deep and got Blake Walther to strike out swinging, and then got Luke Mead on a called third strike to end the inning with Escanaba clinging to a 9-8 lead.

"Obviously, after giving up three bases, I was pretty rattled," Kolich admitted. "But I bounced back, and my defense had my back, I knew that, so I just kept throwing strikes. I kind of slowed it down a little bit for more control, and got two strikeouts."

In the bottom of the sixth, an error allowed McEvers to reach base, and then the Blues intentionally walked LaChance with first base open. It backfired when Kolich hit a sinking line drive on a 1-2 pitch that skipped by a diving Mead in center field, bringing home one run.

And with two men on, Chiu ripped a shot to the right field fence, scoring two runs and giving Escanaba a 12-8 lead entering the final inning.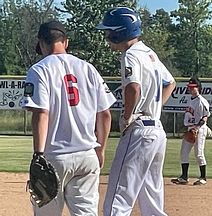 "It feels really good," Chiu said. "Hopefully, we can just keep it rolling for Zones, too. Everyone's putting the bat on the ball, and getting it in play. A few errors here and there, but I'm sure we'll clean it up by the time Zones roll around."

"I unfortunately got myself down in the count 0-2 in both at-bats," Kolich said. "So my approach there is protect close to home plate, and hit anything that's close, and drive it to right field. Both of those RBI were drawn to (opposite) right field, so my approach was to be really protective, not striking out, and just putting the ball in play, advancing the runners."

In the seventh inning, an infield error and a walk out two men on, and Frusti brought them both home with a rocket to left field, bringing the Blues to within 12-10. Then Judici smoked a shot to right field that McEvers caught, and Frusti was doubled off first base, ending the game.

Frusti ended up driving in four runs to lead the Blues, but he took the loss on the mound. Cobe had two runs batted in, and Parker Maki had two hits, also narrowly missing a home run that was ruled to have gone foul down the left field line.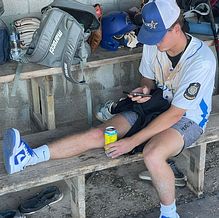 Chiu ended up with three hits and five runs batted in for the Cubs. LaChance had two hits, two runs batted in, and three runs batted in. McEvers added two hits and scored three times.

And the defense was good behind the plate for Escanaba, as Chase Cloutier threw out three men trying to steal third base. Marquette also had good moments on defense, with Pete VandenAvond, Kyle Frusti, and Keith Judici completing a 6-4-3 double play. Juidici also made a good throw to the plate to cut down LaChance trying to score later in the game.

"Beating Marquette in any sport feels really good," Kolich said. "They are a really solid team."

Escanaba improved to 10-8 on the season. The Cubs will wrap up the regular season with a road game Sunday afternoon in Menominee before co-hosting the Zone Five U.P. Finals nexy Thursday through Saturday (July 21-23).

Marquette fell to 5-9-1 on the season. The Blues will play in a tournament this weekend in Sault Ste. Marie, before heading to Gladstone next Tuesday to close the regular season. The Blues will then play in the U.P. Zone Five tournament July 21-23.