Golds, Flames, Marinette Go 2-0 On Opening Day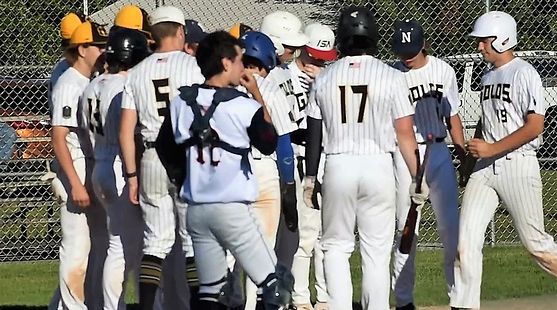 Click the thumbnails to see photos and a few videos, and hear the radio post-game comments from IM's Isaac Lorenzoni, Sawyer Pugh, Beau Kralovec, and Co-Coach John McLean, as well as Escanaba's Bon LaChance.

GLADSTONE---The Iron Mountain Golds, Copper Country Flames, and Marinette Legion baseball teams all went 2-0 on the first day of the Gregg Johnson Memorial tournament on a windy Friday in Delta County.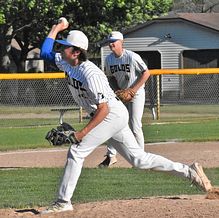 Iron Mountain won two wild, high-scoring games on the "Launch Pad" known as Don Olsen Field at the Gladstone Sports Park. With a gale force wind blowing out to left field, the Golds rallied past Niagara Legion, 12-8, and then held off Gladstone, 13-9.

In the opener, the Golds fell behind, 6-2, as Niagara's Eddie Swanson smoked a grand slam home run in the fourth inning off reliever Henry McRoberts.

Iron Mountain came right back in the fifth inning by sending 13 men to the plate and scoring nine times. Sawyer Pugh singled in te first run, Lucas Maxon doubled in two, and Chase Carlson doubled home another run to tie the game at 6. Then with two out, Evan Haferkorn drew a bases loaded walk to give IM the lead, then an error helped two more runs to score.

In the second game, the Golds took a 6-1 lead over Gladstone in the third inning before the Indians closed to within one run when Casey Alworden squeezed home one run and Cam Kelly smoked a three-run homer to left field. But, once again, the Golds answered, taking advantage of three straight walks from starter Johnny Soderman.


Beau Kralovec, who just signed to play with a North American Hockey League team in Texas, clubbed a very deep grand slam home run off reliever Noah Peterson to make it 10-5.

Then in the fifth inning, Dickinson County again cashed in on back-to-back walks when Carslon smoked a three-run homer, also to left field, to make it 13-5.

Gladstone rallied for four runs in the bottom of the fifth inning, two of them on a base hit to right field by Isaac Ketchum.

Then the Indians had the bases loaded for Kelly, but he popped up a high pitch from Pugh with the tying run on base. The game was called by the two-hour time limit after five wild innings of baseball.

Pugh used 101 pitches to battle through five innings and earn the win, allowing nine runs on eight hits. Soderman took the loss, going three innings and allowing eight runs on nine hits. Three more Indians pitchers went to the mound to finish it out.

COPPER COUNTRY WINS TWO---The defending state runners up cruised to a pair of victories, 10-2, over Menominee, and 9-1 over Niagara. The team is made up mostly of the Houghton and Jeffers High School teams that both made the regional finals in their respective divisions a week ago. Nick Horning threw 79 pitches in the mercy win over the Red Wave, then used his final 26 pitches to help the Flames get the upper hand on the young Niagara team.

MARINETTE WINS TWO---The Marinette Legion team picked up a pair of wins, 11-5 over DePere and 4-1 over the Eastern U.P. Bay College pitcher Austin Burnside threw 107 pitches in the town where he threw his college ball to earn the win.

ESCANABA OUTLASTS MENOMINEE---The Escanaba Cubs scored seven runs in the third inning to break a 3-3 tie and then held on after the Red Wave scored three runs in te fifth inning to close to within 10-6. The game was called in the middle of the fifth inning on the two-hour time limit rule. Bon LaChance had three hits and three runs batted in to lead the Cubs offense. Menominee got a two-run single in the final inning from North Central's Adrian Mercier.

SATURDAY'S RESULTS
DePere 10, Menominee 7
Copper Country 10, DePere 4
Marinette 17, Iron Mountain 5
Escanaba 9, Eastern U.P. 1
Gladstone 6, Niagra 3
Copper Country 7, Escanaba 3
Menominee 8, Niagara 7
Iron Mountain 9, Eastern U.P. 3
Gladstone 5, Marinette 4

FRIDAY'S RESULTS
Iron Mountain 12, Niagara 8
Iron Mountain 13, Gladstone 9
Marinette 11, DePere 5
Marinette 4, Eastern U.P. 1
DePere 3, Eastern U.P. 1
Copper Country 10, Menominee 2
Copper Country 9, Niagara 1
Escanaba 10, Menominee 6

THURSDAY'S RESULTS
Gladstone 7, Escanaba 6

STANDINGS
Copper Country 4-0 (10 RA)
Marinette 3-1 (16 RA)
Gladstone 3-1 (26 RA)
Iron Mountain 3-1 (37 RA)
DePere 2-2 (29 RA)
Escanaba 2-2 (21 RA)
Menominee 1-3 (37 RA)
Eastern UP 0-4 (25 RA)
Niagara 0-4 (35 RA)