Eskymo Season Ends With Heartbreaking 2-1 Loss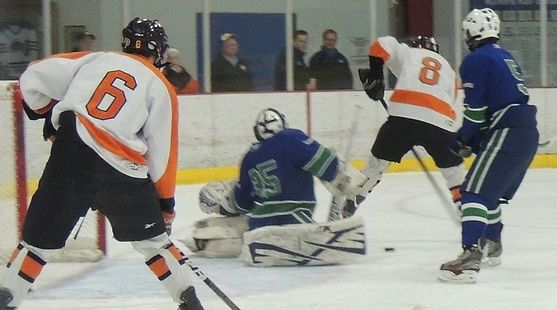 GAYLORD---Eight pipes and a fluke goal added up to a loss for the Escanaba Eskymo hockey team in the regional championship game Saturday afternoon in Gaylord.

The Saginaw Heritage Hawks pulled out a 2-1 win over the Eskymos at the Otsego County Sportsplex when Tyler Angers whiffed on a shot, but beat goaltender Nick LeMire with two minutes left in the game.

This happened after the Eskymos hit either the cross bar or goal post eight times, including a Ben Lasecki post shot about 20 seconds before the Hawks' winning goal.


Gladstone senior Ben Lasecki (4) in his final Eskymo hockey game on Saturday.

"It wasn't by lack of effort," Escanaba Coach Tim McCarthy said. "I would say, looking back, that we had our opportunities. We had the power play numerous times that we should have done it on. We did a lot of what I thought we could have done."

"I thought we played to our potential," Eskymo captain Jake Eastin said. "We matched them up offensively, stayed with them defensively. I think it just came down to that they got the lucky bounce (at the end) tonight."

Escanaba entered the game with a 24-3 record, and ranked No. 4 in the state in Division Two. Heritage was 22-5, and ranked No. 7.

And it was a game that was tight all night long, with the Hawks showing good team speed and the Eskymos were just a tad "off".

The Eskymos had their big chance early in the first period when the Hawks had two men in the penalty box. Escanaba's power play had been clicking at 41% throughout the season, but on this 5-on-3 power play for 1:14, it did not connect, despite pressure.



The Eskymos put on tremendous pressure late in the period, but Heritage goalie Kevin Cressey stood tall. Escanaba had 13 shots in that opening period, and then put on nine more in the second period.

None of them went in, as the Hawks, who had a detailed scouting report on the Eskymos, put a blanket over leading scoreers Levi Wunder and Nick Vandermissen.


Eskymo junior Derek Chaillier scored.

"They took away our time and space," McCarthy said. "We needed to be a little quicker to the puck. They came out fired up, maybe a little bit more than we did. But the fact is that we did control a lot of the game, but it just didn't happen."

At one point, Eastin ripped a shot off of Cressey's mask. Freshman Hunter LaMarch hit a crossbar from in close. But early in the third period, the Eskymos finally tied the game when Wunder set up Dertek Chaillier for the tally at the 4:08 mark.

Both teams had chances after that goal, with LeMire stopping Munoz on a 2-on-1 break.

And at the other end, Wunder and defenseman Jeff Lyle were in on an odd-man rush. There were four passes between the two kids, but Lyle's bid for his first-ever goal rang off the post.

It appeared that Escanaba was in position to get the game-winner when the Hawks were called for too many men on the ice with 3:41 left in the third period. And the Eskymos put on pressure, with Eastin's hard shot being stopped and Lasecki's rebound chance clanging off of the goalpost. Then, seconds later, the Hawks caught a break.



Coach McCarthy called his time-out, and the Eskymos hit another goalpost in their desperate attempt to tie the game. They had trouble getting LeMire off of the ice for an extra attacker, but eventually got him to the bench with time running out.


Eskymo goalie Nicky LeMire (35) and defenseman Quinton McCarthy (20).

The Eskymos could not score, and a season with so much promise abruptly ended.

LeMire stopped 27 of 29 shots for the Eskymos. Cressey had 30 saves on 31 shots. It was the first time this season that Escanaba lost while outshooting an opponent.

It was an especially stinging loss for EHS seniors Jake Eastin, Ben Lasecki, Nick Vandermissen, and Brianna Belanger.

"These are the games that you want to win for them more than anything," Coach McCarthy said. "Because they work so hard all year. They've been such great leaders on the team, and the (younger) team (members) looked up to them all year long."

"I wouldn't have it any other way," Eastin said. "This was a great group of guys."

The loss was Escanaba's third in a regional championship game in the past four years.

"This one is kind of like last year (an overtime loss to Traverse City Central)," Coach McCarthy said. "The Gaylord rink seems to jinx us. It was a real close game, good battle between the two teams. I wish Saginaw Heritage the best. They're a very good team."



Dylan Gauthier Interview.

And the boys were given a surprise after the game.

Dozens of people showed up to meet the bus as the team returned home Saturday night, and the kids were given a police escort by the Escanaba Public Safety and the Delta County Sheriff's Department.

"We thought we were getting pulled over there," Eastin laughed. "Everybody was feeaking out, like 'What?'. But everyone who loves us and supports us was waiting back here at the rink for us. It was very heartwarming."

Despite the sad ending, the team had a lot of accomplishments this season. A school record for wins. The most goals and points scored in school history. Three wins at the Michigan Public High School Hockey Showcase. A conference championship.

You can click the thumbnails in the ARTICLE HIGHLIGHTS box to see photos taken by Tracy Pinar, videos taken by Luke Anthony, statistics taken by Jalyn Dagenais, and radio replays and interviews.



Game 28: Saginaw Heritage Hawks 2, Escanaba Eskymos 1

HERITAGE 1 0 1----2
ESCANABA 0 0 1----1

First Period
HER 1-0: Munoz (unassisted) 5:45

Second Period
No Scoring

Third Period
ESC 1-1: Chaillier 8 (Wunder, Vandermissen) 4:08
HER 2-1: Angers (unassisted) 15:00

Escanaba Penalties (3/6): Aird 2 holding; Lyle 2 slashing; McCarthy 2 tripping.

Heritage Penalties (7/14): Mackie 2 elbowing; Angers 2 unsortsmanlike (playing with broken stick); Curnutt 2 hooking; Schaeding 2 holding; Caldwell 2 kneeing; Dalton 2 tripping; Bench 2 too-many men.

Power Plays: Escanaba 1/6; Heritage 0/2.
Shots on Goal: Escanaba 13-9-9=31; Heritage 11-9-9=29.
Three Stars: 1. Cressey, HER; 2. Chaillier, ESC; 3. Angers, HER.



The Escanaba High School hockey team returned home from Gaylord Saturday night to a hero's welcome.