Eskymos Outlast Flivvers To Win 8th Straight Game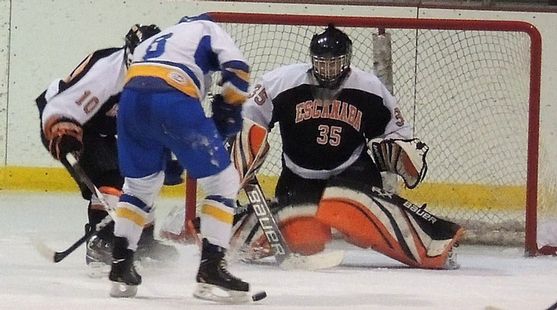 IRON MOUNTAIN---It wasn't pretty, but a win is a win.

Seven different Escanaba players scored goals Tuesday night as the Eskymos posted a wild 7-5 victory over the Kingsford Flivvers at the Mountain View Ice Arena.

This game was a make-up from a day earlier this season when schools were closed as the temperature dropped well below zero. But there was nothing cold about these two teams' offenses Tuesday as they cranked out a combined 79 shots on goal.


Ben Lasecki (4) battles Kingsford's Justin Rock (15) and Ted Pietila (10).

"We didn't really play our best tonight," Eskymo assistant captain Ben Lasecki said. "But we got the job done. We still got the win. Kingsford always likes to play a little physical, but it was fun, though."

It looked like Escanaba would have an easy time as Derek Chaillier scored a power play goal at the 3:46 mark, and then T.J. Myrick scored 29 seconds later. For both boys, it was their sixth goals of the season. Chaillier gave a fist-pump as he scored his marquer.

"There wasn't much room, actuallly," Chaillier said. "Nick (Vandermissen) had a nice screen. The net was wide open, and I just took it."

But Kingsford got goals from Marcus Andrews and Alex Wiitanen exactly one minute apart to tie the game, and then the Eskymos got into penalty trouble.

With Nick Aird in the box for tripping and Quintin McCarthy sitting for charging, the Flivvers took advantage with the five-on-three power play goal by Ted Pietila.



So, the see-saw battle continued as the Eskymos led, 4-3. The teams combined for 22 shots on goal in that first period, and seven of those shots went into the net.


Esky freshman Hunter LaMarch digs in along the boards during Tuesday's game.

In the second period, Escanaba had a power play, but the Eskymos got caught on the back in as Nick Brule got the puck, skated through neutral ice, and scored a shorthanded goal to re-tie the game at 4-4.

But late in the period, Steve Wood worked hard to get into position and smacked one off a defenseman's skate for a 5-4 lead.

"I was skating across the ice and I was looking for someone to pass it to, back-door," Wood said. "And since no one was open, so I just fired it where I thought Levi would be (for a tip), and went off their defenseman."

The penalty troubles continued for the Eskymos early in the third period.

First, Wunder went into the box for slashing. A few minutes later, McCarthy was in the box again. But the Eskymos killed off both Flivver power plays, although Kingsford did come close on one sequence. On that play, Andrews was all alone on goal, but Eskymo goaltender Nick LeMire stopped the back-hander, keeping his team in front by one.



Jake Eastin goal.

From there, the Eskymo captain, Jake Eastin, took control.

He went in on a two-on-one with Myrick and smacked one top-shelf past Kingsford goaltender Wes Poupore to make it a 6-4 game. Then Ben Lasecki scored two minutes later, and the Eskymos were on cruise control. Pietila scored a late goal for Kingsford, but it was irrelevant.


Goaltender Nick LeMire chats with the referee after getting a penalty.

Escanaba ended up outshooting Kingsford, 45-35. Both teams showed a little bit of rustiness at times after playing so many games in the past week. Escanaba played three games at the Michigan Public High School Hockey Showcase over the weekend.

The Flivvers played twice at that showcase, and then they hosted L'Anse on Monday.

"I think we all were a little tired out there," Chaillier admitted. "It's hard playing four games in six days."

Escanaba (18-3-0) remained one game behind Calumet for the lead in the Lake Superior Hockey Conference standings. Kingsford fell to 9-10-1.

Calumet comes to Escanaba Friday night for a rematch of a game earlier this season in which the Eskymos had a 2-0 lead, but lost in the old Armory, 5-2. This Friday's game starts at 7:00 and can be heard live on WGKL-FM (105.5) and WCHT-AM (600).

The game can also be heard around the world on-line at www.rrnsports.com.

DYLAN GAUTHIER IMPROVING---Escanaba freshman Dylan Gauthier underwent a second surgery on Tuesday at the University of Michigan Medical Center in Ann Arbor. He was severely injured during last Thursday's game in Chelsea, when he went feet-first into the end boards, and his left skate slashed his right leg.


Gauthier underwent emergency surgery hours after the accident to repair an artery and Achille's tendon, which had led to a lot of blood loss.

On Tuesday, surgeons turned their attention to broken bones in Gauthier's leg, and it appears that the surgery was successful.

A third surgery might be needed next week because the cut from the skate was so deep that it might require a skin graph to be done.

Dylan's mom, Mary, posted this update on Facebook late Tuesday night: "S

Dylan Gauthier and his family want to thank all of you for the prayers and good wishes that you have sent their way since this happened. I will keep all of you updated.

Click the thumbnails in the ARTICLE HIGHLIGHTS box to see photos taken by Tracy Pinar, as well as videos and audio highlights from the game.



Game 21: Escanaba Eskymos 7, Kingsford Flivvers 5

ESCANABA 4 1 2----7
KINGSFORD 3 1 1----5

First Period
ESC 1-0: Chaillier 6 (Wunder, Eastin) 3:41 PPG
ESC 2-0: Myrick 6 (Wood) 4:15
KNG 1-2: Andrews (T. Pietila, Ryan) 5:43
KNG 2-2: A. Wiitanen (Ward, Larson) 6:43
KNG 3-2: T. Pietila (unassisted) 13:17 5/3PPG
ESC 3-3: Wunder 35 (Lasecki, Chaillier) 15:29 PPG
ESC 4-3: Vandermissen 24 (Wunder) 16:18

Second Period
KNG 4-4: Brule (unassisted) 7:09 SHG
ESC 5-4: Wood 4 (Vandermissen) 16:32

Third Period
ESC 6-4: Eastin 22 (Pinar) 7:01
ESC 7-4: Lasecki 13 (Lyle) 9:18
KNG 5-7: T. Pietila (R. Pietila) 14:52

Escanaba Penalties (6/12): Aird 2 hookng; McCarthy 2 charging; LeMire 2 high sticking; Wunder 2 slashing; McCarthy 2 tripping; Myrick 2 hooking.

Kingsford Penalties (4/8): Andrews 2 slashing; Larson 2 hooking; R. Pietila 2 slashing; Willman 2 hooking.

Power Plays: Escanaba 2/3; Kingsford 1/5.
Shots On Goal: Escanaba 13-15-17=45; Kingsford 9-14-12=35.
Three Stars: 1. Wood, ESC; 2. Chaillier, ESC and T. Pietila, KNG; 3. Lasecki, ESC.



Escanaba's Jeff Lyle (11) traps a loose puck on the boards so Kingsford's Tony Ward (18) can't get to it.