Norse Baseball In 2-0 Hole After Losses To Knights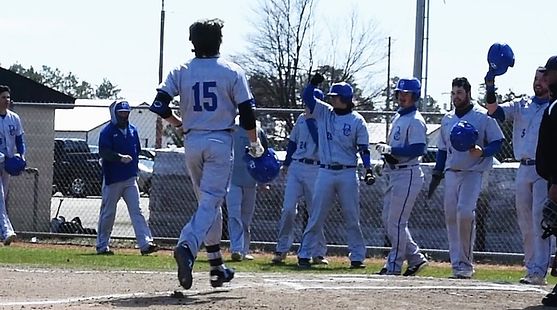 Click the thumbnails to see pictures and listenh to post-game comments from Jack Bower and Coach Mike Pankow

ESCANABA---Any baseball man will tell you that the game can change in an instant, both for the good, or for the bad. For the Bay College Norse baseball team, things changed on one innocent looking pop fly. And not for the good, either.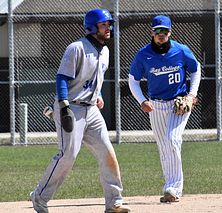 The Norse were leading Dakota County Technical College (Minn.), 1-0, in the bottom of the fifth inning Friday afternoon when Ben Goeltz batted with runners at first and third and two outs. Jack Bower held down the DCTC offense until that point, and it looked like he would get out of the fifth inning when he popped it straight up in the air.

But bad things happen quick. Bower lost the ball and third baseman Alex Morehouse made a diving attempt for it. He came up short, the ball landed, and the tying run scored. Things went downhill from there for Bower and the Norse as they lost the NJCAA Region 13 play-in contest, 7-1, and now trail the best-of-seven series, two games to none.

DCTC also won Friday's first game, 19-2, taking advantage of 12 walks and four hit battsmen to go along with ten Blue Knights base hits.

"When you give up free stuff in college baseball, good things are not going to happen for your team," Norse Coach Mike Pankow said. "We struggled early on throwing strikes in the first game and walked way too many hitters, and in the second game, we made plays that shouldn't happen. I mean when you have a ball land in the infield, five feet from the pitchers mound, and they go on to score four runs, that's something you look back on as the play we should have made. And there were one or two other plays like that that we didn't make."

Bower, who otherwise threw an outstanding game, took the blame, even though the error was officially given to Morehouse (tough one there).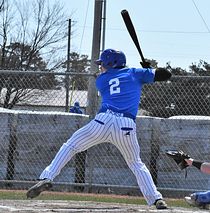 "It was my fault and I should've made that play," Bower said. "And then I let them bust out a few runs. We had them on the ropes, though, until that point."

So, what happened?

"I saw it go up and I knew it was going to be in the infield," the Bark River-Harris High School graduate said. "I was expecting it to be a little deeper, more at third base, so I kind of stepped aside and I looked at third base. Then I realized he (Morehouse) was hustling towards me and I looked back up and I lost it. I should have been tracking it still after it went up."

That play only tied the game at 1-1, but it opened the door, and DCTC crashed inside. Mitch Goodwin, who burned the Norse in the first game with a double, triple, home run, and five runs batted in, laced a run-scoring triple to make it 3-1. Then Nicholas Baker ripped an RBI single.

Just like that, it was 4-1.

The Norse got base hits in the bottom of the inning from Tanner Halvorson and Hector Araguayan, but with the tying run at the plate, David Ibn Ezra flew out to right field and Dan Harrington popped up.

Bower bounced back to retire the side 1-2-3 in the sixth inning, but ran into trouble in the seventh when Kirby Pieri and Goeltz got singles and Goodwin walked. Pankow took him out, and Harrington in relief gave up a sacrafice fly to Baker, and then miscommunication on a steal attempt cost him when the throw hit Harrington in the back.
Diego Waisanen followed with an RBI base hit. Bingo. 7-1 DCTC.

"Just too many mistakes," Pankow said. "We had our chances."

Still, other than the pop up mistake, Pankow liked Bower's pitching.

"He's been doing that all year," Pankow said. "It shows you don't have to burn up the radar gun to be successful. Jack has that bulldog mentality and he just throws strikes. I hope that rubs off on the rest of the team."

In the first game, four Norse pitchers struggled to make it through the five innings before the mercy rule took effect. Dalton Graham took the loss, going 2-and-1-third innings, giving up ten runs on eight hits.Dante Sartorelli, Jared Crow, and Ben Bierd all followed to the bump.

One bright spot was the hitting of Halvorson. He clubbed a home run and a double in the first game, and had two base hits in the nightcap. He was also hit by a pitch and drew a walk, making only one out all day long.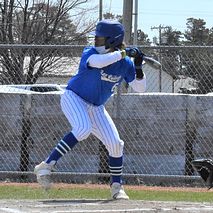 Ibn Ezra's RBI single in the third inning of the second game gave the Norse a 1-0 lead, but they missed out on several chances to expand that lead.

Logan Sjoberg pitched the entire first game for DCTC, and Goeltz earned the win in the nightcap with nine strikeouts in five innings of work.

DCTC improved to 11-8 on the season. Bay fell to 2-20.

The NJCAA Region 13 play-in continues with Game Three on Saturday at 1:00 ET. Then the teams will play an extra game that will not count toward the playoffs, with the rest of the tournament coming in Minneapolis later this month.
You can hear both games on Saturday on WCHT-FM (93.5) and WCHT-AM (NewsTalk 600) in Escanaba, and on WMIQ-AM (1450) on the Bay West campus in Iron Mountain. Also listen on www.rrnsports.com.