Dakota County Continues Domination Of Bay Norse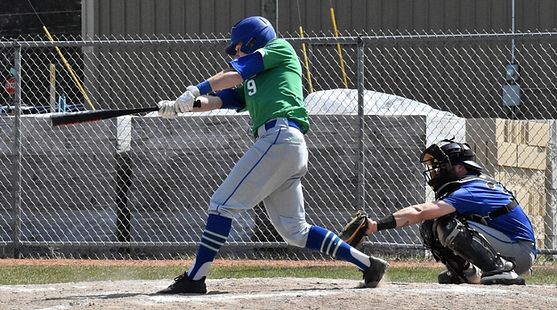 Click the thumbnails to see game photos and hear comments from Coach Mike Pankow.

ESCANABA---The Bay College Norse baseball team lost two more games to Dakota County Technical College (Minn.) on Saturday, 10-0 and 7-3, at the Wells Township Field.

The Norse lost all four games to the Blue Knights this weekend and still have never beaten DCTC, after going 0-8 against them in the 2019 season.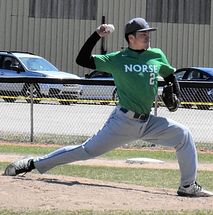 "There's stuff to build on and the program is growing," Norse Manager Mike Pankow said. "We're making the right steps. Dakota County is a tough team. It's going to turn into a rivalry down the rosd where it's a battle every time. It's going to be fun. Hopefully, that road is short and it's next year where we're giving them some good games. But right now, they're just a better team than us."

Saturday's first game was the third game in a best-of-seven NJCAA Region 13 play-in series, and the Blue Knights took a 3-0 stranglehold on the series with an easy 10-0 win. The second game did not count in the region series, but does count on the teams' overall records.

The NJCAA series will resume in Minnesota in two weeks.

In Saturday's first game, the Blue Knights gradually built their lead before the mercy rule kicked in after five innings. Carson Shea gave up ten runs on eleven hits in 3-and-1-third innings to take the loss. DCTC's Mason Primus had a two-run double from the #9 hole in the second inning and Brady Klehr followed with an RBI single to make it a 4-0 game.

The Norse, meanwhile, were handcuffed to just two base hits: both of them by Tanner Halvorson. the only other base runner against winning pitcher Ben Simonsen was Ian Schwalbach, who drew a walk.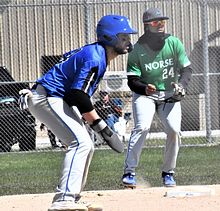 "We just weren't mentally ready, mentally, physically, and emotionally," Pankow said. "It's disappointing to see from these guys. It's still a good group, a talented group. But we've got to find a way to be ready to play."

The second game was more competitive, with Norse pitchers striking out an unreal 17 batters. That's 17 of the 21 outs recorded in the game. Nick Goebert threw the first four innings and struck out eleven batters, and Grant Craft threw the last three innings and struck out six.

"I don't know that I've ever seen that," Pankow said. "That's definitely an interesting stat. I think it goes hand and hand. Yeah, we struck out 17, but we also had quite a few walks and gave away some free bases. They had three or four runs and only had one hit. But mistakes again."

DCTC's Mitch Goodwin continued to terrorize the Norse with his second home run of the series, a two-run shot in the third inning that gave the Blue Knights a 3-1 lead. The Norse cut the lead in half with a base hit by Billy Garcia followed by a two-out RBI single by Schwalbach.

Brady Kleir had a two-out RBI double in the fourth inning to give DCTC a 4-2 lead, before the Norse loaded the bases in the bottom of the inning om a Dalton Graham single, an error, and a hit battsman. But David Ibn Ezra bounced out to strand the bases loaded.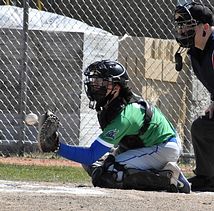 In the fifth, the Norse again loaded the bases after Halvorson smacked a double, plus a DCTC error in center field and two more guys being hit by pitches. They got a run on the dropped fly ball in center field, but. trailing 4-3, Drake Forrest struck out to leave the bases loaded.

The Blue Knights (13-8) put the game away with three runs in the sixth inning when Goodwin ripped another RBI double down the left field line, and Diego Waisanen followed with a two-run double to seal the deal. Mason Primus pitched the first three innings for DCTC and Alex Ege tossed the final four to qualify for the win.

Bay College fell to 2-22 on the season and will be back in action next weekend at home against Bryant & Stratton College from Milwaukee.