WORKING OVERTIME: Braves Rally Past Maroons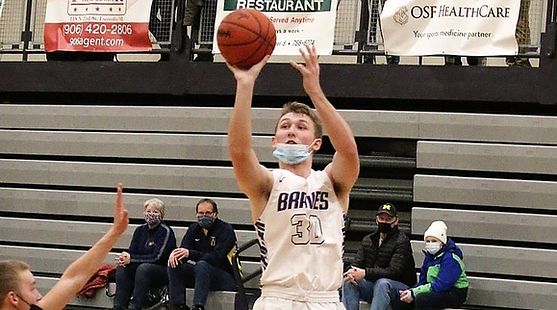 MENOMINEE---The Gladstone Braves boys basketball team rallied from 18 points down to beat the Menominee Maroons, 76-72, in double overtime, Friday night in Menominee.

The Braves trailed, 38-23, at halftime, but things changed in the second half as Cam Ballard and Rane Castor led the team back. Menominee had chances to win at both the end of regulation, and at the end of the first overtime, but could not get the shots to fall.

Then Gladstone, just like it did in an overtime win over Negaunee on Tuesday, dominated the second overtime period against the Maroons. They scored the first six points of the second OT, with Ballard getting a key "and-one" basket to help the Braves get some separation.

Ballard led the Braves with 36 points.

"I thought it was a great team effort tonight," Ballard said. "That Menominee team is very good. I thought in the second half we slowed it down a lot. We had some guys hit some shots and I thought our team played a great second half. We brought the intensity. It's great that we battled back and it's crazy that we got the win against such a good team."

"Menominee came in with the same game plan as Kingsford: get us playing fast and out of control," Gladstone Coach Mike Cretens said. "We turned the ball over 12, 13 times in the first half and that ked to layup after layup for Menoninee. We adjusted at halftime to slow it down and make them guard for longer possessions so we could set up our defense."

Besides Ballard's 36 points, Rane Castor added 15 points for Gladstone.

"Ryan Polley sparked us in the 3rd quarter with three straight three's," Cretens said. "Obviously Cam Ballard was outstanding in the second half and overtimes with 26 of his points coming in that time. Another huge player for us was Dayton Bernson coming in a giving us nine rebounds with us dealing with foul trouble. So proud of our fight we had tonight. My guys gave it everything they had."

Menominee, which had two players foul out, got 20 points from Brady Badker. Aiden Belisle and Cooper Conway both added 17 points.

The Braves have another tough game on Saturday: on the road at Marquette.