COMING HOME: Cretens Named Braves BB Coach

GLADSTONE---The Gladstone High School has hired a new boy's basketball varsity head coach, less than two weeks before the Braves are set to play their first games of this often-delayed season. Mike Cretens, a 2013 Gladstone High School graduate, was offered the job by Athletic Director Dave Lindbeck last Thursday.

He was officially hired by the Gladstone School Board Monday night, but already had two practices under his belt after verbally accepting the job offer last Thursday.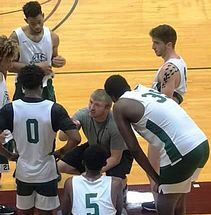 Cretens had a long trip back to the Upper Peninsula after accepting the job, however, because he has been serving as an assistant coach for the William Woods University in Missouri for the past two seasons. That team is coached by former NMU coaches Charles Belt and Terry Nash, and includes Ishpeming High School graduate Darius Yohe on the roster.

"I was asleep because we (William Woods) got back from a road trip in Arkansas at 2:30 in the morning," Cretens told RRN Sports. "Dave called me at about 7 a.m. and was real excited with the job offer. I accepted on the phone. He told me I have practice on Saturday! Well, I couldn't make the first one, but I drove back my eleven hours home. And I got a flat tire on the way, of course. I got home at 12:30 at night, but woke up at 8 a.m. (Sunday) for my first practice."

Cretens said he didn't hesitate to jump at the chance to come home and take over the basketball program that he played in only a decade ago.

"Obviously when you're coaching, you don't do it for the money," Cretens said. "That's what I've always told myself when I was looking for positions. I know that my hard work and dedication will get me the jobs that I need to make a living. Being able to do what I love, in the place I love, and to be able to impact the kids back home, it's something special. Gladstone is always going to have a special place. If there was one place where I could do what I love to do, it'd be Gladstone."


Cretens says his youth will help him to relate to the players, many of whom he coached just four years ago when they were high school freshmen.

"Me being able to connect with the athletes gives them a different drive and gives them more of a reason to play harder, and to open up with me," Cretens said. "It allows them to connect with me, let's talk life, let's talk school, let's talk basketball. All those things is what makes coaching special. With me being a younger guy, it lets me do that more easily."

Cretens will replace Dane Quigley, who resigned to spend more time with his family. Cretens' brother, Andy, is the head coach of the Braves girl's basketball team.