Gladstone Girls Repeat As Regional Champs!!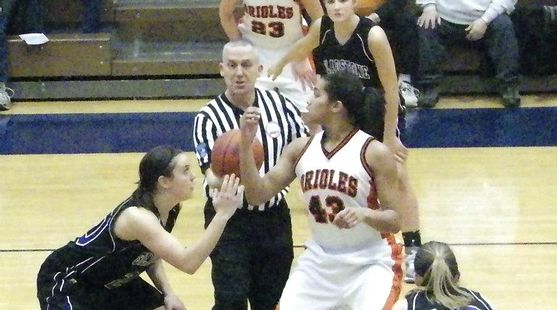 GAYLORD---Things did not look good early on for the Gladstone Braves girls basketball team as they played in the Class B regional championship game Thursday night against the Ludington Orioles at Gaylord High School. The Braves had a hard time getting the offense going in the first quarter, and when Ludington's Chelsey Hackert nailed a 25-foot shot at the end of the quarter, Gladstone was down 15-6.

But the Braves ramped up their defensive intensity after that dismal first quarter, and Gladstone overwhelmed the Orioles, 65-54, to win their second straight regional championship.

"It's really been a special group," Braves Coach Karl Dollhopf said.
"It's been fun. I can't say enough about our girls. We took a shot early, down by nine, but we were able to extend our pressure and get back into it."

"I'm feeling really good, don't really know what to say," Braves senior Jammie Botruff said. "We knew that they were big. We tried our hardest to bix out. We didn't do the best job at first, but we knew that if we got down, we would keep battling back."

Gladstone went to work as soon as the second quarter began, and when Botruff drained a wide-open three-pointer, the Braves had gone on an 11-0 run and had a 17-15 lead. Gladstone led, 22-21, at halftime, and then really started to dominate in the third quarter. Especially on defense, where Whitney Wells-and-company forced numerous turnovers.

"I thought that at halftime, we had them in their heels," Dollhopf said. "If we could come out and apply that kind of pressure in the second half, I liked where we were at. We had the momentum, and we extended that coming out of halftime. I'm really proud of this group."
"
They had a lot of big people, but they were easy to trap, and we just took advantage of what we could," Wells said. "We came to win."

Six different Gladstone players scored in the third quarter as the Braves outscored the Orioles, 23-12, in those eight minutes. Katie Becker was on fire in that quarter, scoring nine of her 16 points.
Wells had six points, including four straight free throws in the third quarter, and Gladstone built a 45-33 lead that held up late in the contest.

"Oh, my gosh, I was pumped," Wells said. "I was walking down the court thinking, 'four-for-four. Yeah!'"

"The fourth quarter, you have the lead, but you don't want to be too cautious," Dollhopf said. "We had to do what got us there. Get to the line and make some free throws. And that's what we did."
Especially Botruff, who made nine of ten charity baskets in that fourth quarter. Throughout the game, Botruff was a stellar 14 of 16 at the line.

Ludington (23-2) managed to cut the Gladstone lead to eight points on a couple of occassions in the fourth quarter, but could never get over the hump, despite having a size advantage at several positions. The tenacious Braves defense kept holding the Orioles at bay, either causing turnovers or forcing shots that were hurried or were low-percentage.

The Orioles were led in scoring by Rachel Petzak, who had 15 points. D'Erika Varenhorst had 12 points and Hackert added ten.

For the Braves, Botruff scored 21 and Becker added 16. Wells and Erin Boddy both had nine points, but the girls don't care who scores what.

"We went into the locker room and we didn't talk about who scored," Botruff said. "It's all about teamwork. We had a good effort, but I thought we could have played a little bit better. But that will come."

"They've done it all year long," Dollhopf said. "They are a super group, and they deserved to win. Jammie has been a great player for us. She has sacraficed this season to help us become a team. She signed with Grand Valley and could have been all about winning conference scoring titles. Jammie hasn't done that. She's played within our system, she makes people around her better. I can't say enough good things about Jammie."