FOUR IN A ROW: Wildcat Hockey Sweeps Alaska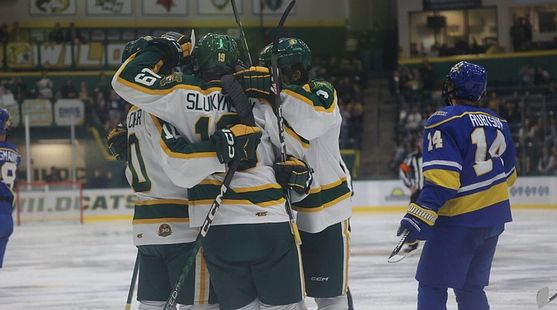 The Northern Michigan University hockey team stretched its winning streak to four games with a pair of 3-1 wins over the Alaska-Fairbanks Nanooks this weekend in Marquette. Stories and photo courtesy of NMU Sports Information.

SATURDAY GAME RECAP

MARQUETTE, Mich. - The Northern Michigan University men's hockey team completed its weekend sweep of the Alaska Fairbanks Nanooks with a gutsy 3-1 win. NMU blocked 41 shots on the evening, second most in an NCAA D1 hockey game since 2021, and T6 all-time since blocks became a recorded stat.

Charlie Glockner was arguably the best Wildcat tonight, making 30 saves and carrying a shutout for 79 minutes before the Nanooks scored with the goalie pulled. Kevin Marx Noren opened the scoring on the powerplay, followed by a Connor Eddy breakaway and another Aiden Gallacher empty net goal.

The Nanooks edged the 'Cats in shots on target 32-31, and in the faceoff dot by a 29-19 margin. The 'Cats penalty kill was remarkable and was once again perfect, killing all four attempts. The 'Cats were 1/3 on the PP, and blocked a total of 41 shots.

The 'Cats now improve to 5-6-1 with their four-game win streak, and the Nanooks fall to 6-5-1.

FRIDAY GAME RECAP

MARQUETTE, Mich. - The Northern Michigan University men's hockey team welcomed the Alaska Fairbanks Nanooks to the Berry for game one of the non-conference matchup, downing the Nanooks 3-1.

Matvei Kabanov scored his first as a Wildcat to open the scoring, followed by goals from captains Andre Ghantous and Aiden Gallacher. Ghantous recorded a multi-point night with his goal and assist, along with assists from Michael Van Unen, Michael Colella, and Grant Slukynsky. Charlie Glockner made 28 saves for a .966 SV% and his second-straight win.

As a team, the Wildcats were outshot 26-30, went 1/4 on the PP, and were perfect on the PK (4/4). The 'Cats held an edge in the faceoff dot, winning 31 to UAFs 25, along with blocking 20 shots on the evening.