Norse Fourth Quarter Comeback Falls Short, 57-47
Click the thumbnails for photos and videos, and to hear post-game comments from Norse Coach Todd Ciochetto. Also click the AUDIO button for Amya Harris player spotlight interview.

VIRGINIA, Minn.---The Bay College Norse women's basketball team wrapped up a two-game road trip to northern Minnesota on Saturday with a 57-47 loss to the Central Lakes (Minn.) Raiders at a tournament hosted by Mesabi Range College in Virginia, Minn.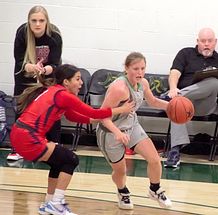 The Norse struggled mightily to score for much of the afternoon, managing just 19 points in the first 25 minutes of the contest before finally knocking down some shots to get back into the game late.

"You've got to make shots, you've got to make lay-ups, and you've got to make three's," Norse Coach Todd Ciochetto said. "We finally made some open three's, and we get those shots every single possession, so they've got to make them. But you can't miss lay-ups at the end, you can't miss assignments. We forget to foul. They've just got to suck it up a little bit more."

Bay had a 10-9 lead late in the first quarter as Norway's Jada Freudinger scored six points. But the next 13 points went to the Raiders, led by Jamie Johnson, who nailed three triples.

That put the Norse behind, 22-10, and it was 26-16 at halftime.

Bay came out cold in the second half as well, with just three points in the first part of the third quarter. The Raiders led, 38-19, and took their biggest lead of the game at 44-23 late in the quarter before the Norse mounted a comeback that closed that deficit to single digits.

Ashlee Burchette, who has had two big scoring nights so far this season, was held to two free throws and no baskets before she nailed a triple to close the gap to 44-26 at the end of the quarter.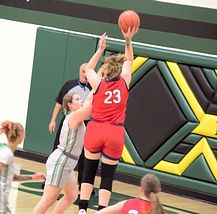 Then, in the fourth quarter, the Norse found some momentum as Kennedy Sproule drained four triples and Burchette added two more long-range bombs. Sproule's last triple cut the lead to 55-47 with 1:25 still left, and Bay had two different possessions with wide-open triple tries that would have cut the deficit to five points. Neither fell.

"They showed some fight, but it's still not enough," Ciochetto said. "They don't understand that every possession matters. If you want to play college basketball, you've got to make shots."

It was a breakout game for Freudinger, who finished with a double-double of 13 points and 17 rebounds.

"She played phenomenal." Ciochetto said. "Yesterday, she was upset with herself. She didn't do anything right, in her words. But she promised that today she was going to play well, and she did."

Burchette had 13 points on those three triples, and Sproule had 12 points on her four triples.

The Norse hoisted 39 three-point attempts in the contest, making eight. The Raiders were 5-for-24 from downtown. Central Lakes (3-2 overall) used its size to pull down 51 rebounds, 13 of them from Chesney Phillip and 11 from Alyssa Torgerson.

Still, the Norse, despite being out-sized, hung tough on the boards, with 43 rebounds. Marquette's Siena Lingle had eleven rebounds to go along with Freudinger's 17 boards.

Bay College fell to 2-4 on the season heading into Thanksgiving week. The Norse will travel to Ironwood next Saturday and Sunday for a tournament hosted by Gogebic Community College.