DREAM SEASON ENDS: Northern Falls In NCAA's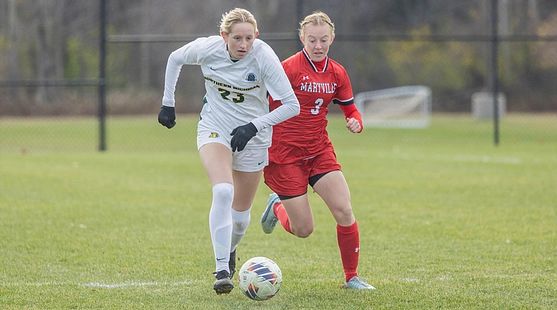 This story was written by NMU Sports Information. (NMU Photo)

MARQUETTE, Mich. - The Northern Michigan University women's soccer team's historic seasons came to a close on Friday, as the 'Cats fell to the Maryville Saints 2-1 in the first round of the NCAA Midwest Regional Championship, all three goals coming in the final four minutes of the match.

The game was a level 0-0 until the 86th minute, as Maryville scored off a mad scramble in the box. The Saints scored off a counter-attack a minute later to double the lead, giving the Saints a two goal lead with two minutes left. Gwen Kiilunen scored off a Stephanie Trujillo corner kick with 30 seconds left, and the game finished 2-1.

Maryville broke the scoreless tie with just over three minutes left, as a corner kick led to a lot of chaos in the NMU box before Ashlyne Hunt scored to give the Saints a 1-0 lead. The Saints caught the Wildcats pressing up the line, and a counter-attack a minute later gave the Saints a 2-0 lead.

Gwen Kiilunen scored her first career goal in the final minute from a Stephanie Trujillo corner kick, but it was too little too late, and the Saints would go on to win 2-1.

The 'Cats finished with 14 shots to the saints 8, and five corner kicks to the Saints two.

The Wildcats finish the 2023 campaign with a 16-2-4 record, tying the most wins in a season in program history, and won the GLIAC Regular Season and Post Season Championships, both first in program history. The 'Cats finished the regular season ranked no. 8 in the nation, the highest ranking in program history.