RED WAVE: Marquette Soccer Earns Tourney Title
Click the thumbnails to see photos taken by Mary Sysko

SUTTONS BAY, Mich.---
The Marquette High School varsity boys soccer team won the championship of a tournament in the northern Lower Michigan community of Suttons Bay over the weekend. The boys slipped by Gaylord, 1-0, to start the day, beat Harbor Springs, 2-0, in the second match, and then smacked Kalkaska in the championship game, 6-1
Marquette goaltender Edan Hautomaki wasn't overworked, but he did his job, posting two shutouts and allowing only one goal on ten shots on the afternoon.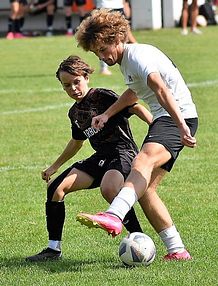 Marquette Coach Dan Salmon said that the first match was actually the biggest, as his team clamped down on the Gaylord squad and freshman Charlie Hrodey scored the lone goal in the first half, assisted by Dixon Poggi.
"We controlled a lot of the play in the first half but Gaylord started gaining control in the second half even though they did not get a shot on net," Salmon said. "Our midfielders did well in this game."
The second game saw Marquette get the win with a first half goal on a free kick by Indigo Catalano, and then Hrodey scored the second-half goal off an assist by Seamus White. It was the busiest match of the day for Hautomaki, as he stopped seven Rams shots on goal.
"Once we scored the free kick, the game turned in our favor and we controlled play for most of it," Salmon said. "Charlie Hrodey really stepped up and had a good weekend."

The championship game was anti-climatic, as the Redmen dominated the Kalkaska Blazers, 6-1, and everyone got in on the scoring attack:

FIRST HALF
Kaleb Chipelewski on a penalty kick
Henry Wood from Catalano and Ethan Sandstrom
Charlie Hrodey from Chipelewski and Miles Hill
Chipelewski from Andy Brunswick
SECOND HALF
Canyon Medina from Chipelewski
Ben Wilson on a penalty kick
"The team really responded and they were hungry for the win. Winning this game and the whole tournament was a complete team effort." Salmon said,
Marquette improves to 8-3 on the season and will travel to Iron Mountain on Tuesday.

MARY SYSKO'S PHOTO CAPTIONS:
BOTTOM Photo - Henry Wood (left in white) advances the ball up the field versus Gaylord.

MIDDLE Photo - Hunter Sandstrom (right in white) steals the ball from a Harbor Springs player.

TOP Photo - James Barch (right in white) clears a ball versus Kalkaska.