STRONG OPENER: Bay Volleyball Wins In Alpena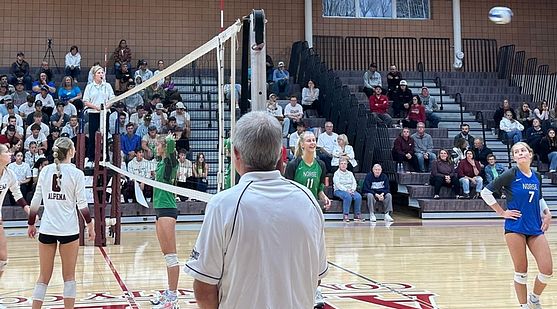 Click the AUDIO button to hear post-game comments from Norse Coach Dan Porath. Photo courtesy of Alpena Community College.

ALPENA---The Bay College Norse women's volleyball team opened its Michigan Community College Athletic Association conference season with a 3-0 win on the road over Alpena Community College Wednesday night.

The scores were 25-19, 25-11, and 25-15. It was the second win of the season for the Norse over the Lumberjacks, but it was different from the last meeting when the Norse had to sweat out a tense 2-1 battle that saw two of the three sets go into overtime.

"I think the biggest difference for us was for finding a way to keep the momentum," Bay College Coach Dan Porath said. "We've been giving ourselves self-inflicted trouble. We get the momentum, and then we give it back to teams by making our own errors. Today, we really minimized those errors, and were able to keep the momentum instead of just giving it back."

Norse libero Tori Jandt, who earlier on Wednesday was named the MCCAA Northern Conference Defensive Player of the Week for the fifth time in her career, and second time this season, was at it again Wednesday night. She led the way with 25 digs, and she also chipped in a team high of five service aces.

"She's been great for two years now," Porath said. "I'm not surprised with what she's been doing. She puts herself in great positions, and her serving gets our offense going as well."
Kylee Tadisch led the Norse with seven kills, while Tianna Taylor, Piper Monroe and Olyvia Saxton all contributed five kills. Taylor's five kills came on just twelve attack attempts (.417 percentage).


"T has been doing a really good job too, especially with her ball-placement," Porath said. "She's been working on not swinging at every single ball. That keeps her percentage up. She did a great job of that tonight."

Leah Allan had eight digs, while Madison Johsnon and Amber Caylor both added six.

Bay College improved to 7-6 on the season (1-0 MCCAA), while Alpena Community College fell to 1-6. The Lumberjacks hadn't played a match since they faced the Norse in Escanaba back on Aug. 27.

Bay will have its conference home opener on Saturday against Delta College out of Saginaw.

The Pioneers are off to a 5-0 start in non-conference matches.

"I hope what they (fans) see is a team that never gives up, and when the ball is in the air, we're going to be hitting the floor before the ball hits the floor," Porath said. "That's kind of the way we're built. And then hopefully our offense is clicking."

Saturday's match starts at 11:30.