ALL TIED UP: Escanaba, Negaunee Settle Nothing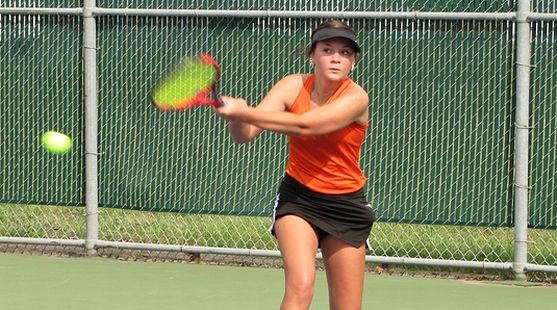 ESCANABA---It was a heavyweight battle between two top teams in the Upper Peninsula high school girls tennis, and there was nothing settled as the Escanaba Eskymos and Negaunee Miners finished in a 4-4 tie.

Escanaba pulled out three-set victories at Number 1 and Number 4 doubles, as Natalie Hansen and Sam Manninen won at first doubles, and Carly Bowden and Danni Hughes won a marathon at fourth doubles.

"We knew we had to be at our best today with the Negaunee Miners coming to town," Escanaba Coach Chris Ogren said. "Our girls played some of their best tennis of the year."

The two victories in doubles were big for the Eskymos, after both duos won their first sets, only to lose their second sets. But both Eskymo teams were able to pull through in the third set to win, both by 6-3 scores.

"Natalie and Sam were up in the second set, too, but Negaunee's Kallen Schultz and Maddie Frustaglio were very resilient," Ogren said. "They won that second set, but Natalie and Sam straightened out their game in the third set. They cut back on errors, picked their spots better, and were able to finish off the third set."

And as for the #4 doubles team?

"They were able to take control of the third set, thanks to Carly's aggressive net play, and Danni's strong baseline game," Ogren said.

Escanaba's first singles player, Sophia Derkos, stayed undefeated with an easy 6-Love, 6-1 win over Aubrey Johnson.

Derkos did not lose a set all year last year en route to a U.P. Championship and honors as Division One Player of the Year.

Negaunee's four wins were all in straight sets. The fourth singles win for the Miners' Madalynn Peters was impressive, as she defeated Escanaba's Maggie Martin, who had not lost a match all season long. Peters won, 6-4, 6-4.

"She (Peters) does a great job finishing points when given an opportunity," Ogren said. "Maggie hasn't faced an opponent with Madalynn's power yet this year, so I was glad to see her hang around against a tougher opponent. When these two meet again, I'm sure it'll be another close match."

Escanaba improved to 5-0-2 on the season. The Eskymos travel to Kingsford on Thursday. Negaunee's record is now 7-0-1 on the season. The Miners will host Munising on Thursday at 4:00.