Medina, Hrodey Both Score Twice; Marquette Rolls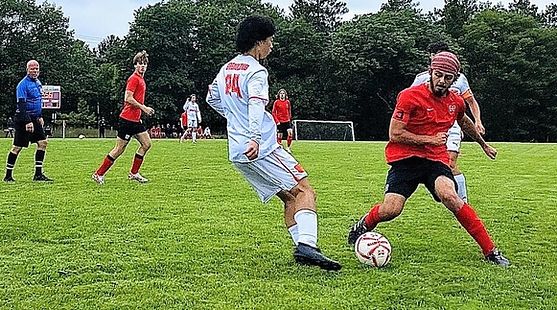 Story and photo courtesy of MSHS varsity soccer

MARQUETTE---The Marquette high school varsity soccer team hosted Houghton on Tuesday night at Kaufman Sports Complex. Marquette won the game 7-0.
First half goals:
Canyon Medina from Henry Wood
Wood from Mason Bocklund
Edan Hautamaki had 2 saves in net for Marquette.
Second half goals:
Kaleb Chipelewski unassisted
Charlie Hrodey from Dixon Poggi
Medina from Ethan Sandstrom
Bocklund from Chipelewski
Hrodey from Chipelewski and Cody Struck
Hautamaki had 3 saves in net in the second half.
Marquette improves to 5-3-0n the season. and the boys will travel below the bridge to Suttons Bay on Saturday.
Photo - Easton Zivnoska (in red) steals the ball from a Houghton player.